Katy TX
Description
Katy TX is a very large area on the west side of Houston TX…where the counties of Fort Bend, Harris, and Waller converge.  It is hard to explain to people because, technically, the incorporated "City of Katy" is only a small area of about 15,000 people. However, the "Katy Area" or "Greater Katy Area" usually refers to the entire area covered by the Katy Independent School District and various sources quote the population to be somewhere between 200,000 and 300,000.
| | |
| --- | --- |
| City of Katy (incorporated)  | Greater Katy Area (Katy ISD) |
Since it is such a large area, I like to divide Katy into three major sections:
North of Interstate 10
South of Interstate 10 but East of Grand Parkway
South of Interstate 10 but West of Grand Parkway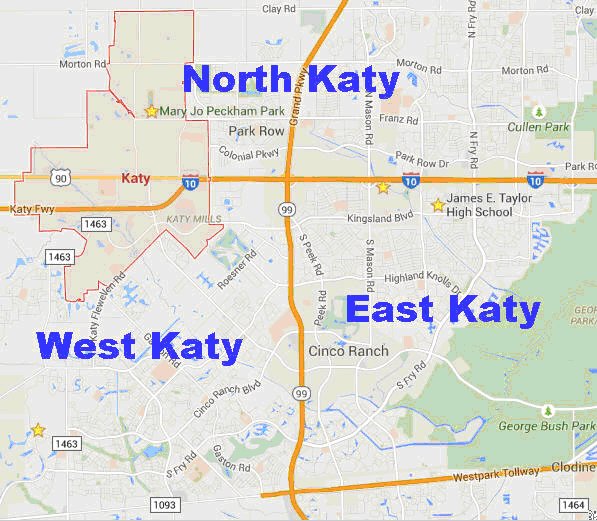 NOTE
My terms "North Katy," "East Katy," and "West Katy" are not official terms. They are just how I separate and explain the different parts of Katy to clients.
These three areas are very different in regards to the scores of the schools and the age and price of the homes. Generally speaking, the area north of I10 has lower scoring schools and, therefore, less expensive homes. The areas south of I10 both have high scoring schools, but some parts still have better schools than other parts. The east side of Grand Parkway is older, and has more mature trees (therefore "prettier" than the west side) but also has older homes that may need to be updated. These homes are closer to Houston and, therefore, have shorter commute times than the west side of Grand Parkway.
The area west of Grand Parkway is newer and so there are lots of newer, modern homes zoned to high-scoring schools. However, if you live far-west you will have a longer commute than the far-east side of Katy (to downtown or Galleria).
We could probably separate another area out: the Energy Corridor which, for now, I include in east Katy.
NOTE
Katy is a huge area! This website only covers neighborhoods that are south of I10…and not all of those neighborhoods…there are a few other smaller neighborhoods as well.
Katy Schools
People often move to Katy for the excellent schools here. As of November 2015, Katy has four high schools that score a 9 (out of 10) on Greatschools.org.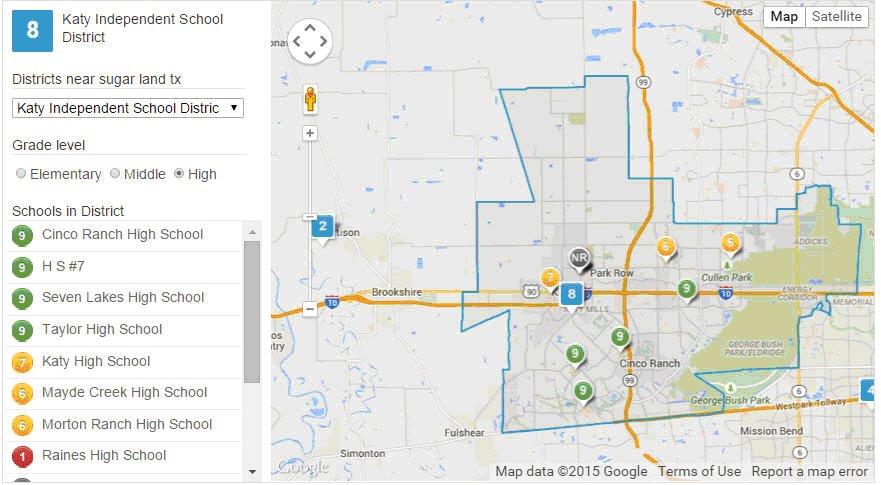 The map below shows the Greatschools.org scores for schools in Katy ISD. The highest rated (8-10) schools are shown in Green, moderately-rated schools (4-7) are shown in Yellow, and low-rated schools (1-3) are shown in Red.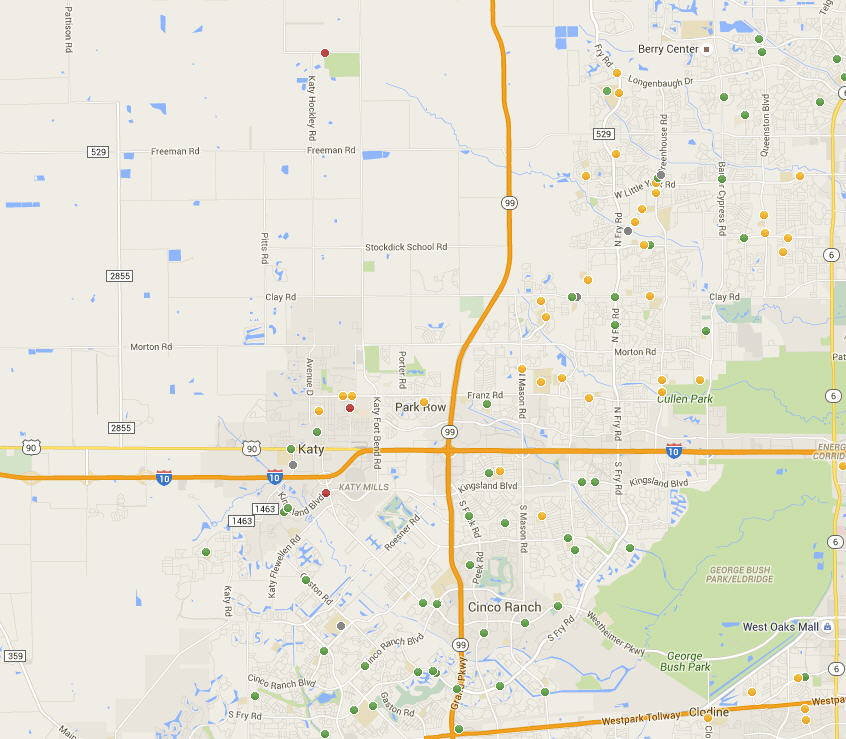 Katy Population and Demographics
It is extremely challenging to get accurate population statistics and demographics for the Katy Area…since it is not all incorporated. According to the Katy Area Economic Development Council's Website (www.katyedc.org):
"Over 309,000 people reside in the Katy Area and are drawn here by the Katy Independent School District (Katy ISD), which now has over 73,000 students. The Katy Area is  larger in population than the City of Pittsburg. Katy's past growth between the years 2000 and 2010 increased by 83%. This phenomenal growth is projected to continue, fueled by Katy ISD, energy companies and corporations, businesses and entrepreneurs. By the year 2020, projections show that over 356,422 people will reside in Katy. 550,000 persons are expected to reside in the Katy Area by the year 2035."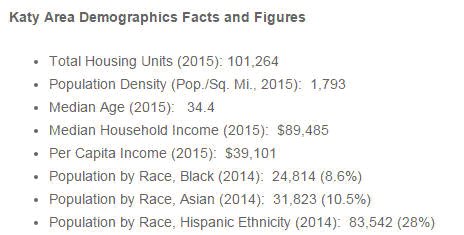 Take a look at the demographics of the schools zoned to the area you are looking at if you want a more accurate picture of the area.
Taylor High School (East Katy)
 
Cinco Ranch High School (East and West Katy)
Seven Lakes High School (West Katy)
 
Tompkins High School (West Katy)
 
Katy High School (North Katy – Some East Katy)
 
Mayde Creek High School (North Katy)
 
Morton Ranch High School (North Katy)
Katy Property Taxes
Unfortunately, property taxes in Texas are among the highest in the country. But before you panic, just remember that we don't have a state income tax in Texas…so one sort of offsets the other. You can read more about Texas property taxes so you are well-informed.
In addition, each Katy subdivision (and there are many!) has different property tax rates…and they can change from year to year. Subdivisions in our newest neighborhoods, like Tamarron, Cardiff Ranch, Cross Creek Ranch, tend to have the highest property tax rates (3.6) and subdivisions in our older neighborhoods, like Kelliwood or Nottingham Country, tend to have the lowest tax rates (2.6-2.8). One thing I like to point out though…our newer homes tend to be much more energy-efficient than our older homes; so you will save money in energy costs when you buy a newer home. That may help partially offset the higher taxes.
There are tax benefits and other benefits in owning your own home (which can make up for the high property taxes). Please read The Benefits of Home Ownership to learn more.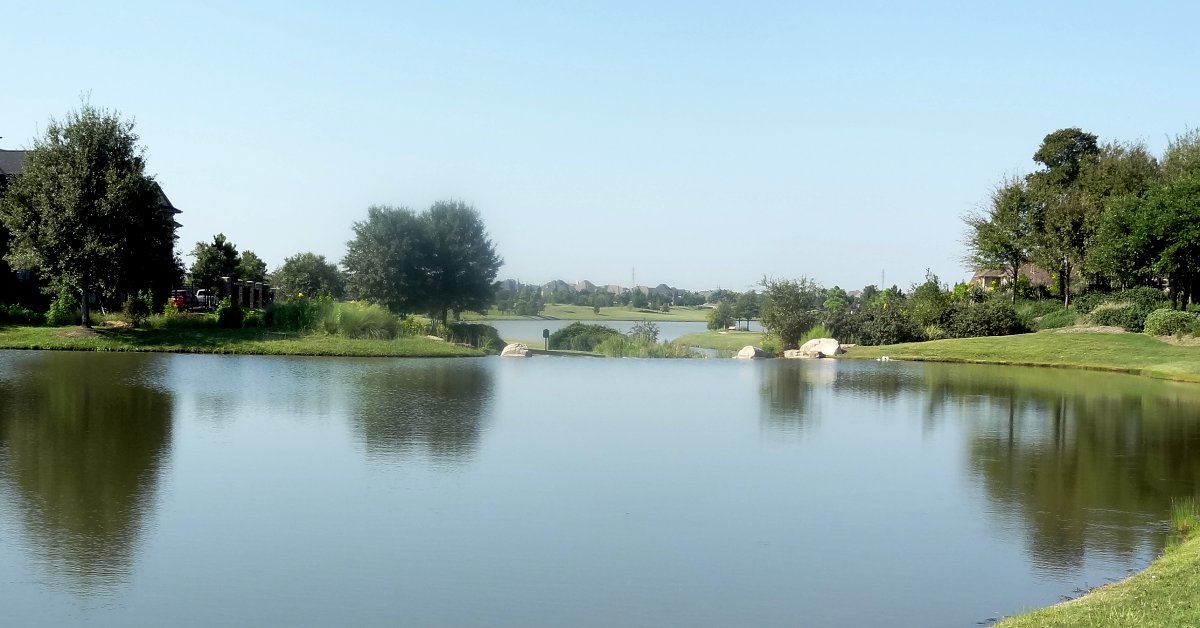 Katy Hospitals
There are at least four award-winning hospitals in the Katy Area:
Katy Commute Times and Traffic
Katy is so large that commute times may vary drastically depending on where you live in Katy…and where you are commuting. You can use Google Maps to estimate drive times from various locations.
Katy has two park and ride locations if you are commuting to Houston:
21669 Kingsland Blvd
1030 W Grand Parkway
Visit www.ridemetro.org for more information about other options such as ride matching, ride sharing, METRO lift, and the HOV system.
Katy Crime Statistics
Crime is a neighborhood, rather than city-wide issue. Crime in one part of town may be completely different than crime in another part of town.
Go to www.raidsonline.com for detailed crime information on Fort Bend County.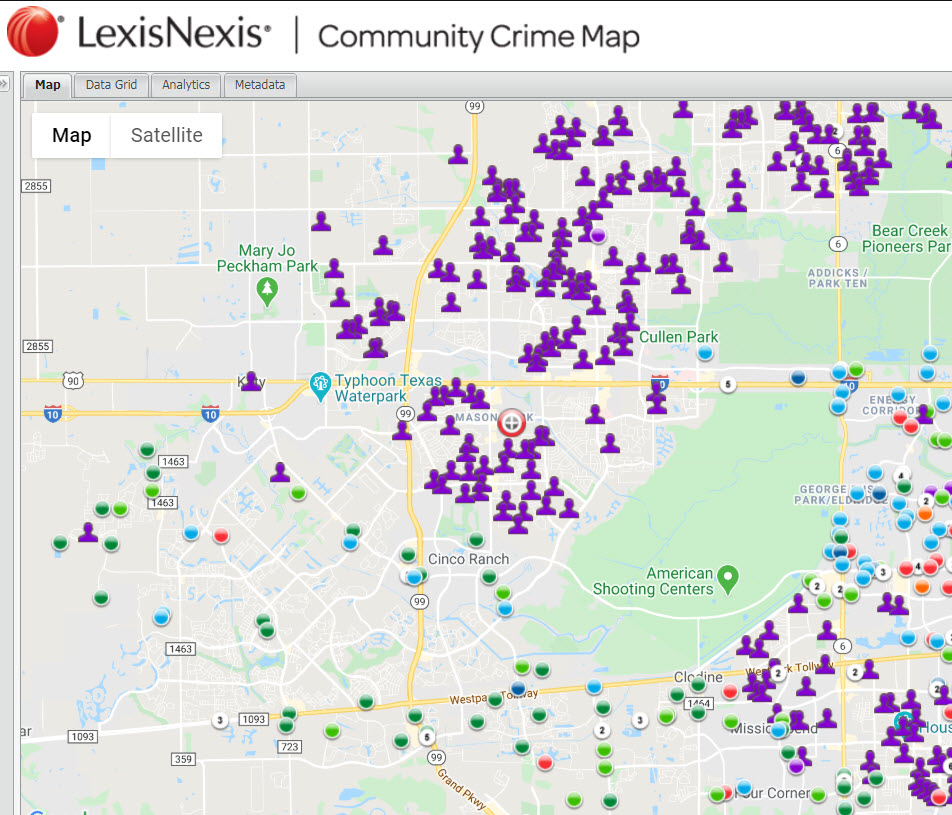 Location of known sex offenders are shown in purple, according to RaidsOnline.com as of November 2015.
Top Employers in Katy
The top employers in Katy are:
Katy ISD
BP North America
WoodGroup Mustang
Shell Exploration
Academy Sports & Outdoors
Katy Mills Mall
Conoco Phillips
Worley Parsons
Walmart/Sam's
Free Katy Relocation Guide
Get the inside-scoop!
Yes, this website has a lot of information, but even more information is located in the 200+ page Katy Relocation Guide. Want to know if home values are trending up or down in a specific neighborhood? It's in the guide. Want to see a list of the highest-scoring elementary schools? It's in the guide. Want to know which schools are located in a specific part of Katy? It's in the guide. The guide contains information on home values and stats, real estate market stats, helpful phone numbers, school zone maps, and more...all in one place. 
This info is not available on this website or anywhere else!
Save yourself a lot of time and download the Katy Relocation Guide today.
Interactive Map
This interactive map shows where this neighborhood is located.
Get More Detailed School Information
Including Zone Maps!

There are over 60 Katy schools. If you want to see schools listed alphabetically as well as by type and rating, then download the free Katy Relocation Guide. This guide also includes current school zone maps for elementary, middle, and high schools.
» Get the Katy Relocation Guide
Home Values
Are Home Values Going Up or Down?
You don't want to pay too much for a home or invest in a declining neighborhood do you?
Download the Katy Relocation Guide for detailed graphs and statistics on homes sales in this neighborhood...and for the entire Katy area. You can't get this information anywhere else!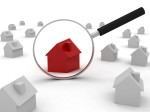 Find Katy Homes for Sale
The best home search available! Straight from the MLS...always the most up-to-date and accurate. Did you know that Zillow and Trulia results can be days, weeks, or months behind?! When you are dealing with a highly competitive real estate market like ours, you can't afford to be late. You need a reliable home search...and we have it.
» Search Katy Homes for Sale
Find Katy Area Homes for Sale
Search Katy homes for sale by Price:
Search Katy homes for sale by Type:
Search Katy homes for sale by Neighborhood:
Search Katy homes for sale near High School:
Search homes for sale by Area:
Search Katy Rentals (Leases) by type:
These generic searches are great, but nothing beats having a local area expert set up a custom home search just for you and your specific requirements. Call or text me at 832-779-2890 so I can get you going with the most accurate home search available!
What's the Best Katy Neighborhood for You?
Talk to a Katy Expert!

Sure...this website has a lot of great information, but there is nothing better than actually discussing your specific needs and situation with a local area expert. That's what I'm here for! Give me a call at 832-779-2890 or send me and email so I can help you right away. I can save you a lot of time!
» More about Sheila Cox, REALTOR
Questions or Comments? 
Submit a question or comment at the bottom of this page.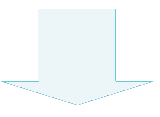 Get answers!
Who's Looking Out for
You

?

Buying a home is not as easy as it looks! You need a local neighborhood expert to:
Help you sort through all the options to find the right neighborhood and schools.
Price a home correctly so you don't pay too much.
Watch out for problem houses so you don't end up with a money pit.
Uncover hidden taxes, fees, and other costs.
Help you WIN in a competitive, multi-offer offer situation.
Sheila Cox is dedicated to helping you buy the RIGHT house in the RIGHT neighborhood at the RIGHT price. One of the ways she does that is by providing in-depth research on a home that you decide to buy to provide you all the information you need to make a wise decision and to protect yourself from possible unknown hazards.
» View Sample House Report
» See more about Sheila Cox
Sheila Cox is terrific. I would recommend her to a friend or colleague. She helped navigate the Texas style real estate system which I find unusual and counter productive based on multiple home purchases in other states... Do not go it alone. Work with a reliable partner like Sheila!
--Moore
Sheila helped us in both buying a new home and selling our house - she is fantastic. She is extremely knowledgeable about the Sugar Land market and helped us find the perfect house for our growing family. We loved her service that we also decided to list our current house with Sheila - she exceeded expectations more than can be expressed. We had an offer in 3 days and closed within the month. Thanks to Sheila, the buying and selling process were extremely easy for us!!
--Peduzzi
Sheila was great. I love the fact that she ensured that I would not overpay for a house. She would run the numbers and come up with a fair price. I felt Sheila is an advocate for the buyer.
--Greenberg
Agent: Sheila Cox, Realtor
Broker: Keller Williams Southwest
1650 Highway 6, #350 (Map)
Katy , TX 77478
Phone: (832) 779-2890
IMPORTANT: Please read Consumer Financial Protection Bureau regarding the new laws and procedures that lenders must follow. You should also read Texas Real Estate Commission Information About Brokerage Services and the Consumer Protection Notice.
PRIVACY POLICY: It's simple...I will not sell or share your info with third-parties. I don't want to bug you...I'm here to help. I may email you useful Katy-specific emails from time-to-time to help you, but you can easily unsubscribe from these emails at any time. I am a real estate agent and I may contact you ONLY IF you have requested me to do so via a Katy Custom Home Search, a What's My Katy Home Worth, or one of my other free, no obligation services. If I am unavailable to meet your needs in a timely manner, I may ask you if I can have a respected colleague contact you instead.