Client Reviews
Here's what clients have to say about Sheila Cox, Katy real estate agent…
---
About Sheila Cox – Katy Real Estate Agent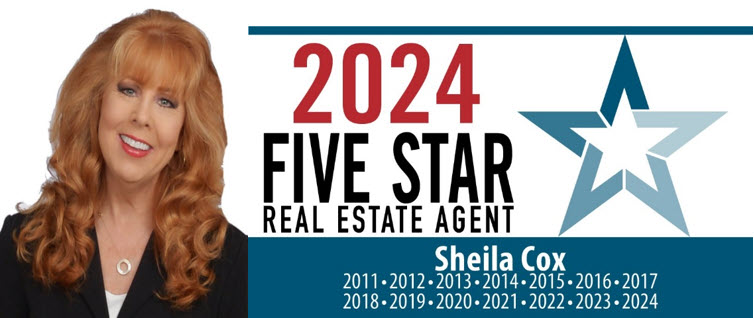 Please forgive me when I look up a lot as I think of how to say what I want to say. I'm a Realtor, not a professional videographer! ;-D
Hey! My name is Sheila Cox, a Katy real estate agent. I have lived in this area since 1998…starting in Upper Kirby, then Westchase, then Sugar Land, Richmond, and now Katy. So I guess you can say I know the area. I wrote every word and took every local photo and video that you see on this website…so I hope that proves that I'm the local area expert. 😀
I have been a real estate agent since 2009 and I really enjoy the complexity of this business. I'm one of those "think outside of the box" problem-solvers that my clients find invaluable when problems crop up in the real estate transaction. (If you have ever bought or sold a house before, you know what I mean.) Before I became a Katy real estate agent, I worked as an instructional designer, corporate trainer, and tech writer in the software industry. That's how I learned to do websites!
On a personal note, I have a teenage daughter who is my pride and joy. She is a "band geek" (saxophone and oboe) at the awesome Seven Lakes High School and will graduate in 2022. We enjoy going for walks around our Katy neighborhood with our little Rat Terrier/Dachshund mix "Darla" and visiting Galveston Island. I enjoy Live Music (especially Classic Rock!), healthy green-living, beaches/oceans, reading biographies and historical fiction, Tex-Mex food, college and professional football, and helping other real estate agents improve their business skills (see my book on Amazon). I was voted "Wittiest" of my Senior class in high school (a hundred years ago) so I have a fun sense of humor and speak sarcasm fluently (but not when on the job). 😀
Hiring the right real estate agent is very important, but you need someone that has more than "personality" going for them. This is (probably) your largest financial investment, so please consider these five important reasons why you should work with me:
Even though I have a fun, upbeat personality, I am also smart and analytical…so I can help pinpoint PROs and CONs of homes and situations in a way that truly helps you "cut to the chase" and make the wisest decisions and solve problems quickly.
Because I am analytical, I provide you with important data that you can't get online…to help with pricing decisions. I hate to say it, but most agents have no idea how to pull all the data, reports, charts, and stats that I will provide you. My goal is to ensure that you always get a good deal in your real estate transaction.
Since I have lived in this area since 1998, I really know the area and can listen to your needs and help you narrow your options so you can focus the best neighborhoods to meet your specifications.
I take my "fiduciary duty" to you very seriously and I'm always looking out for your best interest. You can be sure that I am on your side and that I "have your back." 
I've selling real estate since 2009. My expertise and knowledge will be invaluable to you when challenges pop up in the process. Plus, my expertise enables me to make the process as smooth as possible for you…providing you with the help and guidance you need along the way.
---
Why You Should Hire Me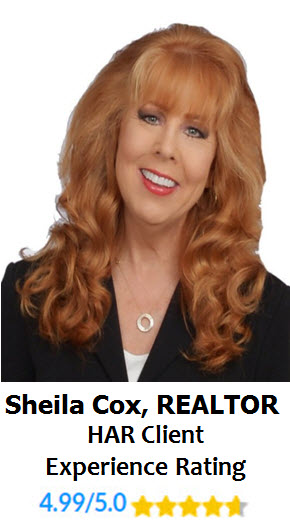 Candid Advice—I promise to give you candid advice on all homes and areas so you can make the best decisions. I won't ignore potential defects that can cost you money, or effect your resale value, in the future. My job is to protect you from defective homes as much as possible while helping you make a sound financial investment. (Read client testimonials)
Local Area Expertise—This isn't just my business…it's where I work and live (for 20 years) so I really know the area. I will help you narrow your options and find the best neighborhood for you based on your specifications. For long-term resale value, the neighborhood you choose is just as important as the home you buy. (Download my Ultimate Katy Guide)
Great Data—I will give you the most in-depth data you have ever seen…to help you make the wisest decisions. This includes a professional CMA when you are ready to purchase a specific home…so you don't pay too much. Plus, my proprietary House Report (see sample) includes the data and information you need to ensure that you are making great home purchase. (Also see Pricing a Home Correctly)
Best Home Searches—Yes, you can search on your own, but no other home search available can filter down to the school level…and filter out the subdivisions that may be known to flood. Tell me exactly what you want, and I can narrow down your options better than any search you have access to. (Request a Custom Search)
Video Walkthroughs—If you or your spouse lives out of the state or country, then you will enjoy my detailed video walkthroughs. I have sold multiple homes to out-of-area clients "sight unseen" by providing High Definition video walkthroughs of potential homes. My videos show front and back yards, closets, pantries, laundry rooms, and garage…as well as the entire home. (Sample)
Easier Process—Moving your family (and possibly changing jobs) is stressful enough. I'm your transaction manager and will guide you, step-by-step, through the process so you never miss an important deadline. I assist with inspections, repair negotiations, home warranties, HOA compliance inspections, hazard insurance, surveys, appraisals, title commitment, home warranties, title company, and more. (View helpful videos on my YouTube channel)
Network of Experts—My network of experts can make your transition to the area as smooth as possible. Need a painter, electrician, mover, insurance company, etc.? I can help! 
---
How I Work to Protect Home Buyers
As a Katy real estate agent, my job isn't "just" helping you find a house to buy…I'm helping you buy a home. There are over 100 tasks that I perform for you during the purchasing process. I'm looking out for you every step of the way and keeping my eye on the listing agent, the seller, the builder (if applicable), the lender, the inspector, and the title company. I'm on your side because I'm YOUR agent. I help with price analysis and negotiations, legal paperwork, inspections, repair negotiations, home warranties, HOA compliance inspections, hazard insurance, surveys, appraisals, title commitment, home warranties, and more. I have the expertise to help solve complicated problems that often occur in the process. Real estate is a huge financial and legal commitment. Don't you deserve to have a Five-Star real estate agent on your side? 
Please read:
⇒  Does My Agent Really Represent Me?
⇒  How Real Estate Commissions Are Paid
Take a look at a sample House Report that I do for my clients. This is the extra "due diligence" I do for you, to make sure that you are getting a great home. This is when I triple-check the home's taxes, schools, aerial maps, sex offenders in the area, flood zones, etc. NO other agent in the world does this! Check out p. 27 regarding the sample Flood Map info I provide.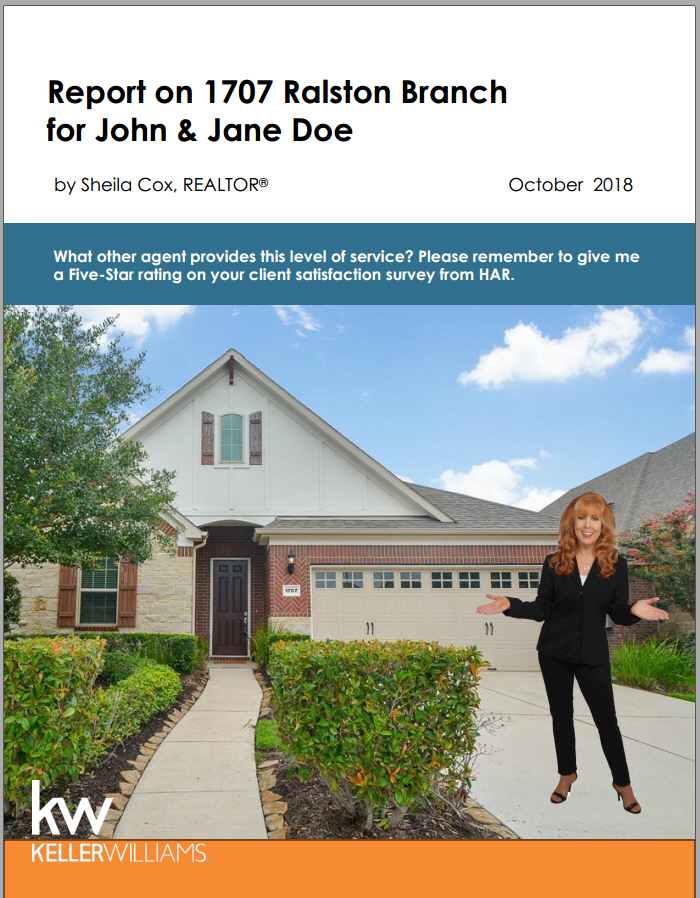 ---
My Reputation
Don't take my word for it. I have received the Five-Star Real Estate Agent award for the past TEN YEARS because of my client satisfaction ratings.  
Less than 1 percent of all agents have received this award for ELEVEN YEARS IN A ROW!
---
I Love My Clients!
I am an equal-opportunity Katy real estate agent and love the diversity of our area.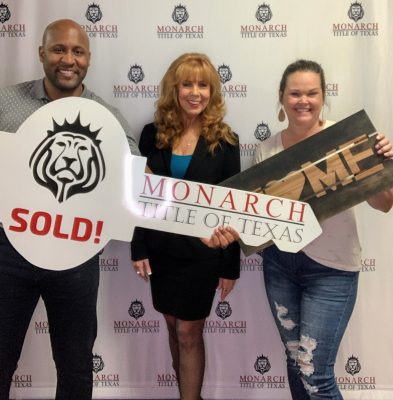 ---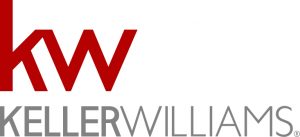 Keller Williams Southwest 1650 Hwy. 6 #350 Sugar Land TX 77478