Katy neighborhoods are mostly master planned communities with tree-lined streets, parks, playgrounds, and community pools and tennis courts. Some Katy neighborhoods are divided into subdivisions, and each subdivision will have its own tax rate, school zone, and price range. But when searching for a home, it is best to focus on a neighborhood…not one of the 200+ subdivisions in Katy.
The main Katy neighborhoods are shown below. You can click a neighborhood to see a complete description of it including maps, videos, photos, tax info, school ratings, and a list of Katy homes for sale in that neighborhood.
»  View details about Katy TX
BONUS: I have provided some drive-through VIDEOS on some neighborhoods. Don't miss the tours! (See all of my videos on my YouTube channel).
---
Top 10 Katy Neighborhoods
The following neighborhoods are, in my opinion, the top 10 Katy neighborhoods. These neighborhoods have the best combination of highly-rated schools, beautiful area, nice amenities, reasonable commute time (on most), and nice homes.
DOWNLOAD FREE GUIDE

"Best Places to Live In Katy Texas"

This is the ultimate guide about Katy TX! It has all the information on Katy, demographics, things to do, schools and up-to-date ratings, maps, detailed neighborhood comparison charts, and information on the top 20 (or so) neighborhoods…all in one place!
---
Katy Neighborhoods Zoned to Top-Rated Schools
Although Katy ISD is a highly rated school district, it has over 70 schools and some are rated higher than others. Generally speaking, the highest-rated schools are in 77494 and 77450. The following neighborhoods have top-rated (8-10) scores on Greatschools.org.
NOTE: For a full list of all schools and ratings, sorted by area, type, rating, and alphabetically, then download my "Best Places to Live in Katy" guide.
>> See Katy homes for sale with best schools
---
Katy New Construction Neighborhoods
If you want a newer home, especially a new construction home from a builder, then you will have to look northwest or southwest (and have a longer commute to downtown). Katy is "built out" on the northeast and southeast sides, closest to downtown Houston. The largest area of new construction homes will be on the northwest side of Katy (77493) where the schools are only Average (usually rated 5-7). If you want highly-rated schools, then look on the southwest side, including Fulshear TX (77441) because most of 77494 is built out.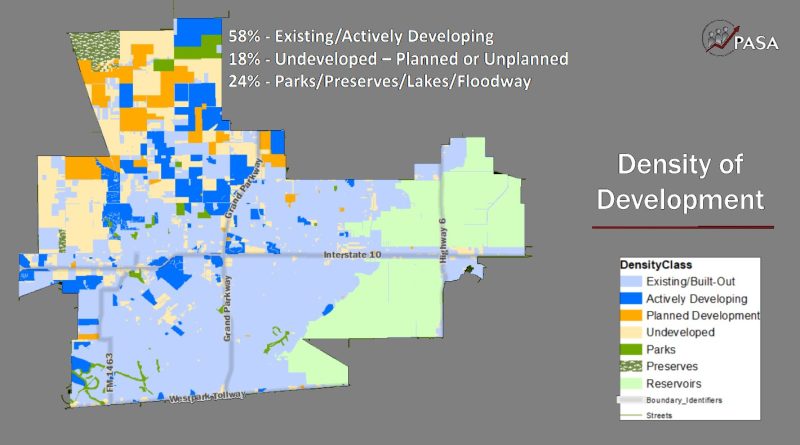 Source: https://www.katyisd.org/
One thing to watch out for: High-risk flood zones. Some of the new construction neighborhoods are in 100-year and 500-year flood plains! Check out my Katy Flood Zone Report for more details and flood maps.
>> See Katy new construction homes for sale
---
Katy Neighborhoods with Shortest Commute to Downtown
The east side of Katy is closest to downtown Houston. These homes will be older (1970-2000) and may need to be updated to have modern colors and finishes. 
---
Katy Luxury Neighborhoods
You can usually find a "luxury home" (priced $600K or more) in most of the top Katy neighborhoods. However, the following neighborhoods seem to have the highest number of luxury homes within them.
>> See Katy luxury homes for sale
---
Katy Affordable Neighborhoods
Median home prices in northeast and northwest Katy are generally more affordable than homes in southeast and southwest Katy…probably because the schools are not as highly rated. There are a few affordable neighborhoods south of Interstate I-10 with good or average schools (see below).