What Katy Areas Flooded After Hurricane Harvey?
While flood zones are typically rated as 100-year or 500-year, Hurricane Harvey is being described as a an unprecedented, 1,000 year event (read more)! This means that homes that flooded during that once-in-a-life time weather event may never flood again. So let's keep our wits about us. Investors (who are keeping their wits about them) are flocking to the area to buy homes that others won't consider…because they know that a home that flooded during Harvey is not an indication of future flooding.
For the most part, with few exceptions, Katy neighborhoods are located in a 500-year floodplain which means that they have 0.2 percent risk for flooding each year…less than 1%!

During Hurricane Harvey, two unprecedented things occurred that caused a few homes in Katy to flood…homes located mostly around the Barker Reservoir:
Harvey dropped a record-breaking amount of rain in the Houston region…over 50 inches ("only" 31 inches in Katy).
The amount of rain that fell cause the Addicks-Barker Reservoirs to Overfill

Source: http://www.businessinsider.com/hurricane-harvey-2017-rainfall-map-2017-8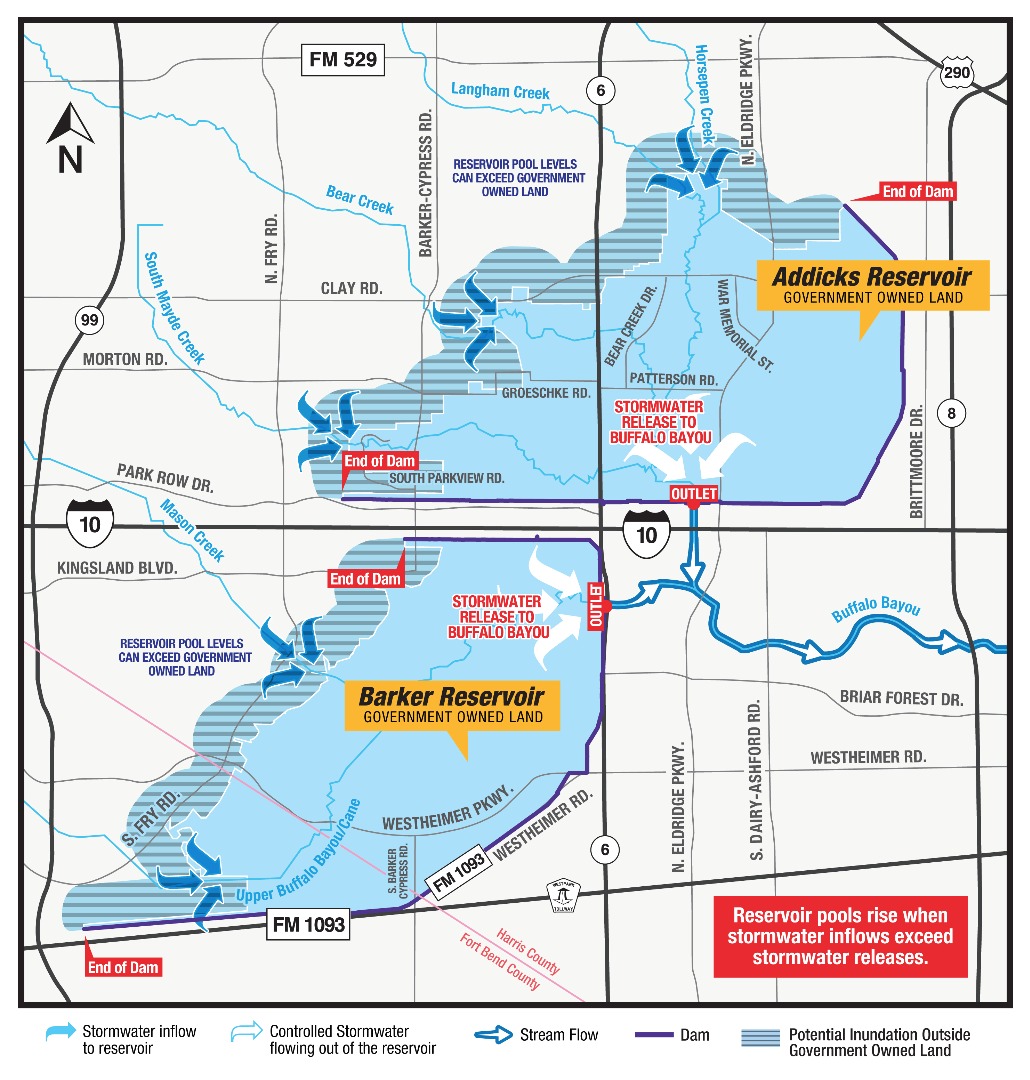 Source: https://www.hcfcd.org/media/2321/addicksbarkerreservoirs_release_finalrvsd.jpg
In East and West Katy, this mainly impacted some (not all) homes and businesses located in the subdivisions closest to the Barker Reservoir and, therefore, may have a higher risk of future flooding than other parts of Katy:
ARCADIA
ARCADIA COURT
CINCO RANCH EQUESTRIAN VILLAGE
ESTATES OF BAKER LANE
FLAGSTONE ESTATES
GREEN TRAILS
GREEN TRAILS CROSSING
GREEN TRAILS FOREST
GREEN TRAILS OAKS
GREEN TRAILS PARK
GREEN TRAILS VILLAGE
HEATHERWOOD PARK
HIGHLAND TRAILS
KELLIWOOD
KELLIWOOD ENCLAVE
KELLIWOOD GARDENS
KELLIWOOD IN NOTTINGHAM COUNTRY
KELLIWOOD LAKES
KELLIWOOD PLACE
KELLIWOOD TRAILS
KINGSLAND ACRES
KINGSLAND ESTATES
KRYSTAL LAKE ESTATES
LAKEFOREST OF KELLIWOOD
LAKES OF BUCKINGHAM
LAKES OF BUCKINGHAM KELLIWOOD
MEMORIAL PARKWAY
MEMORIAL PARKWAY VILLAGE
NOTTINGHAM COUNTRY
OAK PARK TRAILS
PARKLAKE VILLAGE
PARKVIEW AT BARKER CYPRESS
RICEFIELD VILLAGE
STONELODGE
UNIVERSITY PARK WEST
WEST SIDE FOREST
WESTGREEN PARK
WILLOW PARK GREENS
WINDSOR PARK ESTATES
WINDSOR PARK LAKES
Again…not all the homes in these neighborhoods flooded!  In fact, less than 8 percent of Katy homes and businesses (approximately 7,209) were flooded during Hurricane Harvey…so don't let what you see on TV give you the wrong impression…most of the homes in Katy TX do not flood on a regular basis and did not flood even during this HISTORIC hurricane. The water got high and some of the roads were flooded for a few days, but this was an unprecedented weather event which may never occur again. 
Please read before buying: In-depth, must-read information about Hurricane Harvey!
With that in mind, I will say that it will be very important for home buyers to watch out for repaired homes and to make sure they have been repaired properly. Most people worry about mold problems in homes that have flooded. Supposedly, once the homes have been properly dried out, then mold cannot grow. Mold requires moisture to grow. While mold spores are around us all the time,  they will not grow (and become a problem) when the source of the moisture is eliminated. It's hidden leaks and on-going moisture that allows mold to grow. (read more)
As a resident of the Gulf Coast, you should know that hundreds of homes in the Houston area that are not in high-risk flood zones and had never flooded before during any other flood or hurricane event, did flood during Harvey. So that means…you never know for sure and you had better carry Flood Insurance on your home at all times! In my opinion, a $400/yr flood insurance policy is worth the peace of mind you have from knowing you won't be financially devastated if a storm sits on top of your neighborhood and drops 50 inches of rain! I don't know of any areas in the country that can handle that much water…do you?
The Texas Legislature passed a law, effective September 1, 2019, that now requires home sellers to fully disclose flood zones and flood history for homes. Section 5 now looks like this: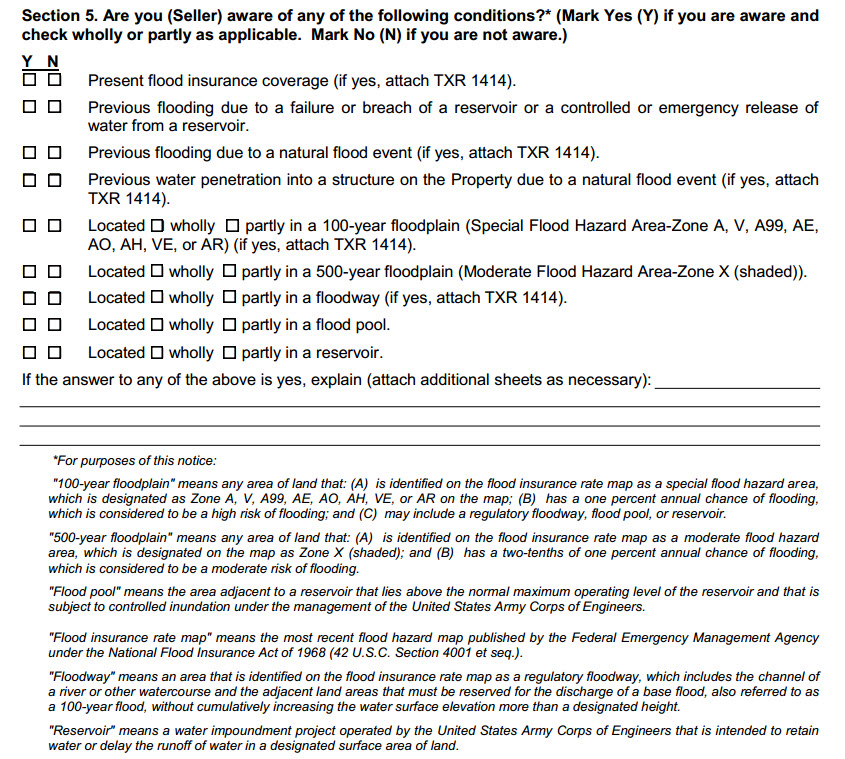 So this will be information you will receive when you buy a home in Texas. 
Read also: