How to Sell Your Home Fast – Top Tips and Best Kept Secrets
How to sell your home in 4 easy steps:
Contact Sheila Cox for a preliminary price analysis. Your choice: Call 832-779-2890       -or-        Email House Details To Me
Meet in-person to discuss your service level options.
Walk-through the home and decide on next steps.
Sign paperwork and get home listed.
That's the beginning of the process. Getting a home ready to go on the market, marketing the home to buyers and their agents, handling contract negotiations and repairs, dealing with problems in the sales transaction (title commitment, surveys, lenders, inspections, HOA compliance, and more), and then finalizing the sales transaction involves many more steps!
---
Easiest Way to Sell = VIDEO!
We are still in a housing shortage in 2023! You can expect to get a high volume of showings within the first 5 days of listing your home. If you want to minimize the volume of traffic of strangers walking through your home, then provide a walk-through video! I'm not talking about a slideshow of photos or one of those awful "Matterport" videos that don't even show the backyard. I'm talking about a thorough walk-through that shows off your ENTIRE home including yard, garage, pantry, and closets. People want to see the ENTIRE home…not just the main rooms.
We also have many buyers that are out-of-state who will pay TOP-DOLLAR for "site unseen" homes, if you provide a detailed video walk-through like mine. I've sold 11 homes via HD video and I know the "INs and OUTs" of the process! If you want to get the highest price for your home, then make sure the largest group of potential home buyers can see it.

NOTE: I also staged this home with extra furniture, artwork, curtains, and decorations. At the Closing, the Home Buyer
commented that the decorating was one of the reasons they bought this particular home. 😀
I provide high-quality HD videos with my listings
This is also a great way to advertise your home on social media!
---
New Ready-to-Sell Program!!
Contact me for more information on how to get your house in top-dollar condition NOW while postponing payment until Closing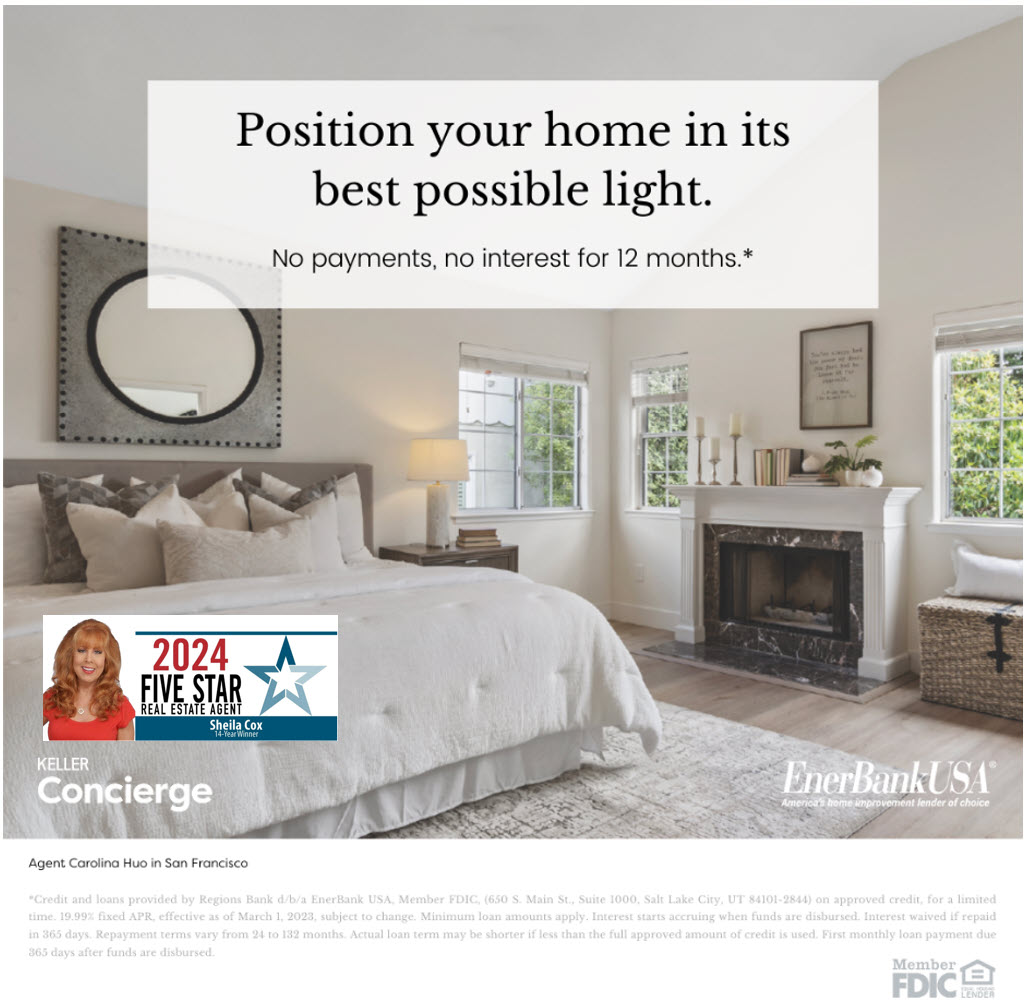 ---
How I Stage to Sell!
This is a short video showing one example of how I staged a home to sell! This home sold in 2021 for full price in 4 days to an out-of-town buyer (who didn't walk the home in person until the day before Closing). She told us at Closing that the decorating was what "sold" her. Even beautiful homes in HOT real estate markets can use a little bit of staging.
---
My Seller Testimonials
As you consider how to sell your Katy home, you may want to review what some of my previous clients say about me (below). You will notice in the following reviews that I often help my clients sell their existing home, and buy a new home, at the same time. Let me know if you need help buying a home too!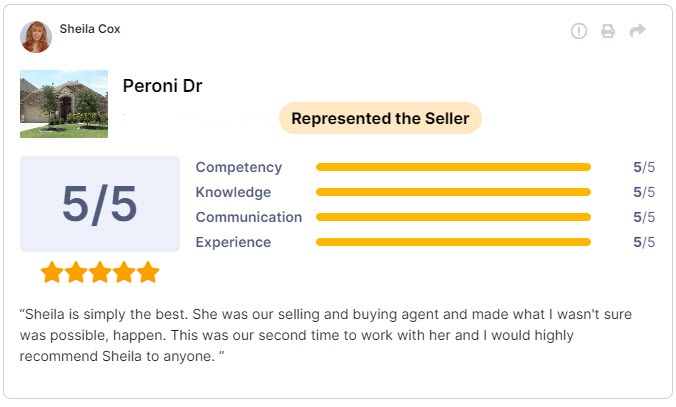 "Sheila was amazing in every way imaginable. We opted for the full-service package and it was worth every penny. She gave a thorough and detailed explanation of the process with a recent market analysis and how she determined the list price. She staged, took photos and videos of the home herself. We received a full list offer after one day of being on the market sight unseen because of the quality of her work. We really appreciated everything Sheila did for us and highly recommend her services!" — Callahan
"Sheila was the best realtor we could have ever asked for. We could always depend on her to get the job done and she was always looking out for our best interests. I was going through the tragic loss of my mother during the sale and purchase of our home, and Sheila went above and beyond in ensuring that all was being taken care of and everything was moving along smoothly on BOTH ends. Where the other realtor failed during the process, Sheila jumped in to pick up the pieces and kept things moving along. She is dependable and trustworthy, and has great knowledge of the market and lenders. Her superb advice and expertise made the whole process, which could have been very stressful given the circumstances, move along as smoothly and possible. People like Sheila are few and far between, and we are so grateful that we had the opportunity to work with her." –Worley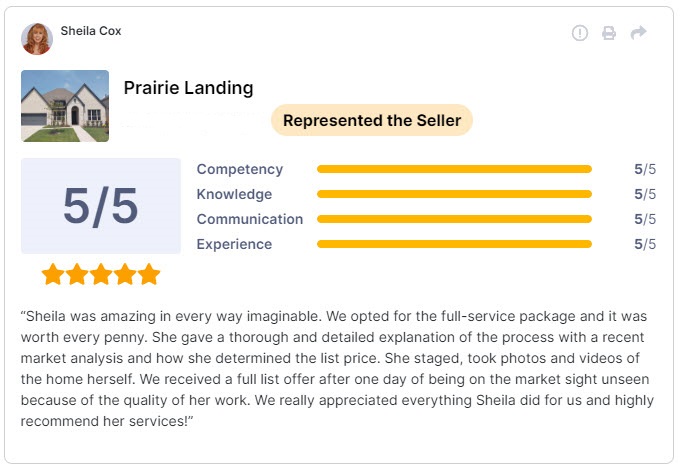 "Sheila was OUTSTANDING!!!! Well beyond the call of duty!!!! I could not recommend any service provider higher, in any industry, that I have ever experienced." –Post
"In an age when good customer service is hard to find, Sheila is a gem. She handled both the sale of our old house and the purchase of our new one, and I was completely pleased with both transactions." –Compton
"Sheila is simply the best. She was our selling and buying agent and made what I wasn't sure was possible, happen. This was our second time to work with her and I would highly recommend Sheila to anyone." –Boykin
"Sheila is an experienced and knowledgeable realtor. She did a great job of shepherding us through the arduous process of a successful house sale. I would definitely recommend her services." –McNulty
"Sheila does a great job of listening to her clients and then direct them down the right path. She is a joy to work with." –Veltri
"Have worked with on 2 real estate transactions. Her level of service and knowledge has not waivered. Would recommend Sheila to anyone looking for a good quality service Provider who is honest and willing to ask tough Questions when needed." –Henry
"Sheila has a very outgoing personality and I found her very easy to get along with. She proved to be very professional and knowledgeable about Katy real estate and I discovered many important things I did not know about before in respect of selling a property and buying a new one. Even though I was out of the country for a while, she took over my house and prepared it for the Open House and other showings until we received an offer. Thereafter Sheila very patiently helped me to find the right house for my needs. I would definitely recommend her to future buyers/sellers." — Mokwe
---
How It Works
Once you contact me via phone or email, then:
I create a preliminary price analysis.
Schedule a time to meet with you in-person to discuss price and find out more about your needs.
Once you decide to hire me, we go through the following home sales process: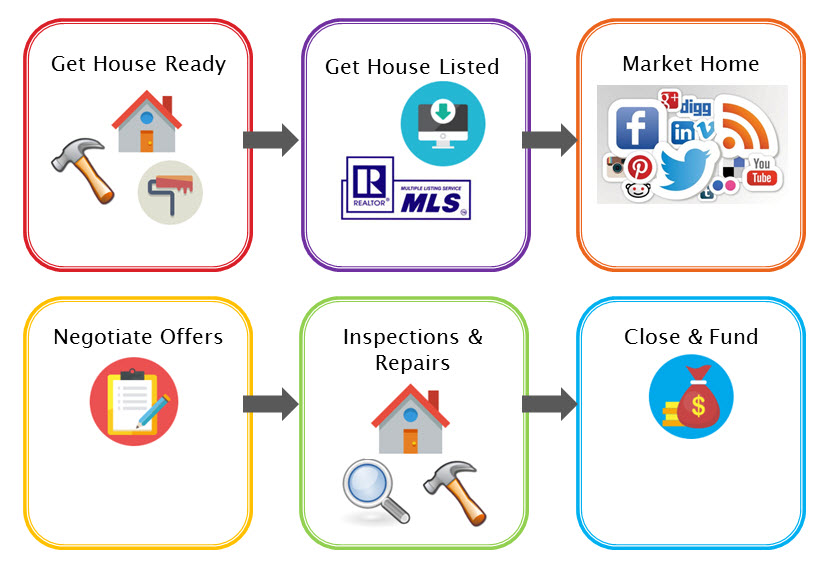 ---
What You Get When You List With Me
Walk-through Video
No matter how good the photos are, home buyers can't see your home's layout and floorplan through photos alone. Today's home buyers love to  view video tours (walk-throughs) of potential homes. This is especially true in the Katy area where so many people are relocating from other parts of the country (or the world). In this area, it is very common for one spouse to be viewing properties here, while the other spouse is located far away. A video tour, in that situation, can help encourage an offer…since the out-of-town spouse can view your home online. So, with the Gold plan only, I will create and publish a walk-through video of your home and make it available on your MLS listing and other websites.
Plus, if you are still living in the home, video tours can minimize the number of unqualified showings that you have to manage. It can be a hassle to pack up kids and pets and leave your home for hours at a time, and then get the feedback "floorplan doesn't work for buyers." So to try and prevent that, I post a walk-through video so that potential buyers can view it first, and then only set an appointment if it looks like the floorplan works for them.
My walk-through videos are not photo slideshows or those annoying 3D video programs. I actually take my video camera and walk your home as if I were a home buyer…including opening closet doors. This is a great selling technique that very few (less than 10 percent) real estate agents use.
40+ Photos on MLS Listing
High-quality photos are the second most important part of marketing your home to potential buyers. In "the old days," before we could put photos on the Internet, buyers used to drive by houses and see what they looked like from the street. This is what we call "curb appeal"…how appealing a home appears from the street curb.
Today's "curb appeal" is how good a home looks via online photos. Instead of driving neighborhoods, home buyers search on the Internet.
If you are also looking for a new home, you know that some photos are much better than others. Ugly photos do not encourage showings. When home buyers have many options, they will "weed out" the homes with ugly photos.
Buyers May Not Tour Your Home If It Looks Bad Online
To help you sell, I upload high-quality photos of your home when I list it to the MLS. I hire a professional photographer to ensure we show off your home's best features. Research shows that the more photos a potential home buyer sees, the more emotionally attached they become to your home. So the more photos the better!
Decluttering & Staging Advice/Plan

A few home owners do not need help with decluttering and staging their home to sell, but most do. I will walk through your home, take detailed photos, and create a personalized staging plan, so you know exactly what you need to do to show off your home. I will also give you a copy of my 25+ page Home Selling Tips & Checklists with very detailed, prioritized checklists and other tips for getting your home in top-dollar condition. This helps make the process for preparing your home as quick and painless as possible.
Staging Service
If your home doesn't look it's best, you may not get top-dollar for it. However, a little elbow-grease and some effective furniture arrangement and staging will go a long way to get your home in top "show condition." I am an expert in getting your home in show-worthy condition.
If you need help staging your home, or if your home is vacant and you want it to appear as warm and inviting as possible, then I can provide a free staging service (for full-commission listings only, special conditions may apply). This service varies, depending on your home and what it needs to look as good as possible. If you already have furniture and decorations in the home, then my staging service helps to declutter and arrange it to show off the home's best features. If your home is vacant, then my staging service adds art, decorations, and minimal furnishings to make the home appear more warm and inviting. Sometimes, we use virtual staging…where photos are digitally enhanced by professionals. Whatever your situation, I can help!
In some situations, your home may need some remodeling and updating to compete with other homes on the market. The following video shows an example of how I helped a home owner remodel and stage his home. You will also see the difference between "bad" photos and "great" photos (which includes wide angles and lighting).
BEFORE & AFTER VIDEO
You can also view videos on my YouTube channel
Advertised on Social Media
I will post your video and photos on various social media accounts to advertise there as well. And you can share those posts with your friends and followers too. Home buyers are not really using social media yet to find homes, but it never hurts to spread the word to more people.
Detailed MLS Photo Descriptions
Sometimes it's hard to figure out what room you are looking at when you are viewing a photo. Or you can't tell if the floor is tile or carpet. So I also take the time necessary to write detailed descriptions of each photo so that potential buyers know what they are looking out and notice all the best features of your home. This helps to "sell" your home before a buyer even walks through the door!
Listed on MLS
The most important thing to do to get your home in front of as many potential home buyers as possible is to have your real estate agent list it on the MLS (Multiple Listing Service). This is where buyers' agents in the area search for homes to show their clients. It is also the source of the data that gets sent to all the other real estate websites, such as HAR.com, Realtor.com, Zillow, Redfin, etc. When I list your home on the MLS, it can be found by the 34,000+ real estate agents in the Houston region. It will then be sent out through the Internet (via "Internet Data Exchange" or "IDX") within a few days (or hours!) so that anyone can do a Google search on your address and see your listing.
However, your listing needs to be added correctly to the MLS…and this is not as easy as it sounds. Many agents don't know what they are doing and incorrectly list your home…which makes it difficult (if not impossible) to find. For example, if an agent doesn't ensure the correct subdivision name for your home, buyer's agents searching for homes in that subdivision won't see your house listed. (That's just one example.) Lots of agents leace important MLS fields blank which means your home won't show up in a search for that field (such as size of garage, 2-car vs 3-car).
Professional For Sale Sign in Front Yard
It is important to put a professional-looking For Sale sign in the front yard, since up to 7% of home buyers find the home they purchase due to a yard sign, plus another 7% when your neighbors see your For Sale sign, and tell their family and friends. I use the the real estate post signs that are the highest quality.
Lock Box on Door

Buyers can't purchase your home if they can't view it in person. To make it super-easy, I put an electronic lock box (keybox) on your home so that licensed (and finger printed) agents have easy access to show your home. The lock box that I use records every person who opens it, with the time and date. Only licensed agents and inspectors can obtain the electronic key to unlock these boxes.
Make sure your agent is properly securing your home with an electronic keybox – manual combination keyboxes are not secure. If the buyer sees the code, they can enter and leave your home without permission.
The old-fashioned push button or combination keyboxes that some agents use are not secure. Those combination codes can be easily shared and I've heard of buyers unlawfully accessing vacant homes as often as they want (and without supervision), due to knowing the combination code. Plus, there is no record of who is accessing your key and when they are contained in the old-fashioned keyboxes.
Automated Appointment Scheduling Service
Again, buyers can't purchase your home if they can't view it in person. To make it super-easy, I am a member of the Showing Time Showing Service which is the fastest and easiest way to enable licensed agents to set appointments to show your home. When an agent requests an appointment, they will automatically receive showing instructions, and you will be notified via text or email (whichever you prefer).
Buyers Can't Buy Your House If They Can't See It
If you hire an agent who is not a member of Showing Time, then they require buyer's agents to call or text them to get permission to show the home, and to obtain the combination or code to the keybox. If that agent is hard to get in touch with, or makes it difficult to set showing appointments, then you miss opportunities to show and sell your home. Unfortunately, you will never be aware that this is going on. Let me tell you, as a buyer's agent, there are numerous times when I had clients who wanted to see a home but I could not get in touch with the listing agent to show it! Many times, these were vacant homes that had been on the market for months. No wonder, when the listing agent was making it difficult to show the home.
Contract Negotiations
When we receive an offer on your home, we will need to negotiate several aspects of the offer, including:
Price
Inspections & Repairs
Closing Date
Terms and Conditions
Home Warranty
Survey
HOA Compliance
Receiving an offer to purchase your home is not the end of the process…it's the middle! Even after the purchase contract is signed and executed, other negotiations often pop up. After inspections, there is typically a second round of negotiations for repairs. Plus, other issues can occur in the transaction that will require my help and expertise, such as handling appraisal issues or dealing with lender delays. A real estate transaction is complicated, but I will help you through it!
Online Contracts and Signature Service
Real estate laws in Texas are complex. To make sure your sale is compliant, and to help prevent future litigation, I will help you with the necessary sales contracts and disclosures. I use an online signature service to make it easy for you to review and sign documents online. This saves time and headache…no more scanning and faxing!
Weekly Showing and Activity Reports
If you want to stay well-informed on showings and activity, then starting with the Silver plan, I can provide you with weekly reports so you always know exactly what's going on with your home listing.
Market Watch Emails (to monitor the competition in area)
When you are selling your home, it is useful to keep your eye on the market activity in your neighborhood, and monitor what your competition is doing.  So starting with the Silver plan, I set up a customized Market Watch for you, which will let you know when homes in your neighborhood: go on the market, reduce their sales price, when they are sold, or when they go off the market. You will be able to view the details and photos on those homes as well. Smart!
Monthly Check-Up for Cleanliness (if vacant)
If your home is vacant for more than a few weeks, then dead bugs will start to appear and make the home look unkempt. So, if you select the Gold plan, I will check your home at least once a month to vacuum dead bugs and make sure it stays clean and in top showing condition.
---
Research Proves How Houses Are Sold
When you are considering how to sell your Katy home, it's good to do your research. The National Association of REALTORs® publishes a detailed report every year called the Profile of Home Buyers and Sellers. This report provides detailed information on how the real estate industry works.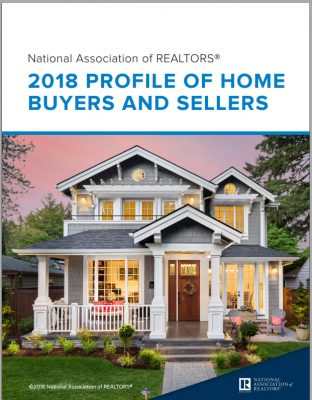 The research shows that 95 percent of home buyers use the Internet to search for homes to buy. So it's very important to have your home listed on the Internet so it can be found by potential home buyers.
The following graphic shows where home buyers found the home they purchased. Two of these items are not applicable to you, the home owner, since you are not a home builder (5% sales) and you don't know your buyer (3% sales) or you wouldn't be reading this article.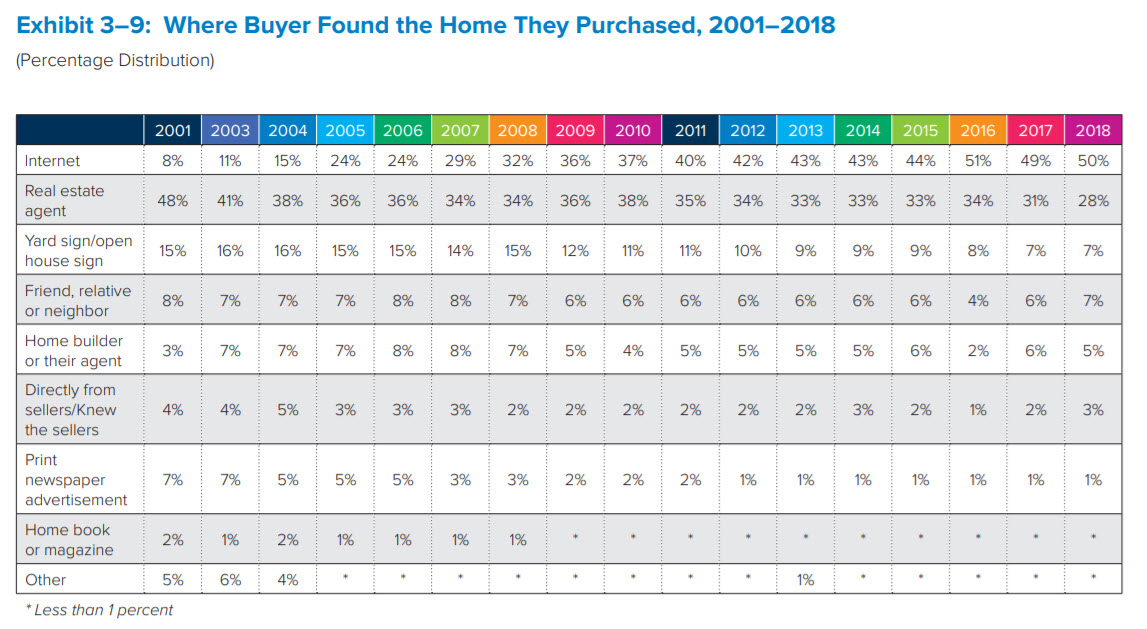 According to the chart above, 50% buyers found the home they purchased directly on the Internet and 28% through a real estate agent. What you may not realize is that real estate agents use the MLS (Multiple Listing Service) to find homes for their clients. Plus, Internet listings are almost always extracted from the MLS database. So that means, that at least 78% of homes are found by buyers because they are listed on the MLS.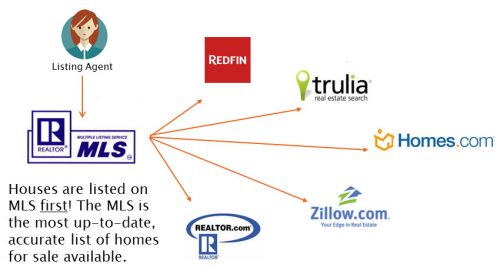 Then another 7% plus 7% = 14% of buyers found the home they purchased because of the For Sale sign in the yard. (How else do friends, relatives, and neighbors know the house is For Sale? Mostly because they see the For Sale sign.)
So when you add it up, the two most important ways to market your home to home buyers is:
Put a For Sale sign in the yard
Make sure your home is listed properly on the MLS…so it can be found on the Internet and by Buyers' Agents.
The chart above also shows the old-fashioned marketing methods that are no longer effective:
Open houses
Direct mail post cards
Ads in newspapers and magazines
Home flyers
But the chart above just shows where they found the home they purchased. The exhibit below shows the method that buyers use to purchase homes and the overwhelming majority (87 percent) use a real estate agent to buy a home (not For Sale By Owner). That's because it may be easier than ever to find a home (with the Internet), but the home sales process is still complicated, litigious, and expensive, so most buyers want a professional real estate agent to help them with the process and make sure all the legal requirements are fulfilled properly.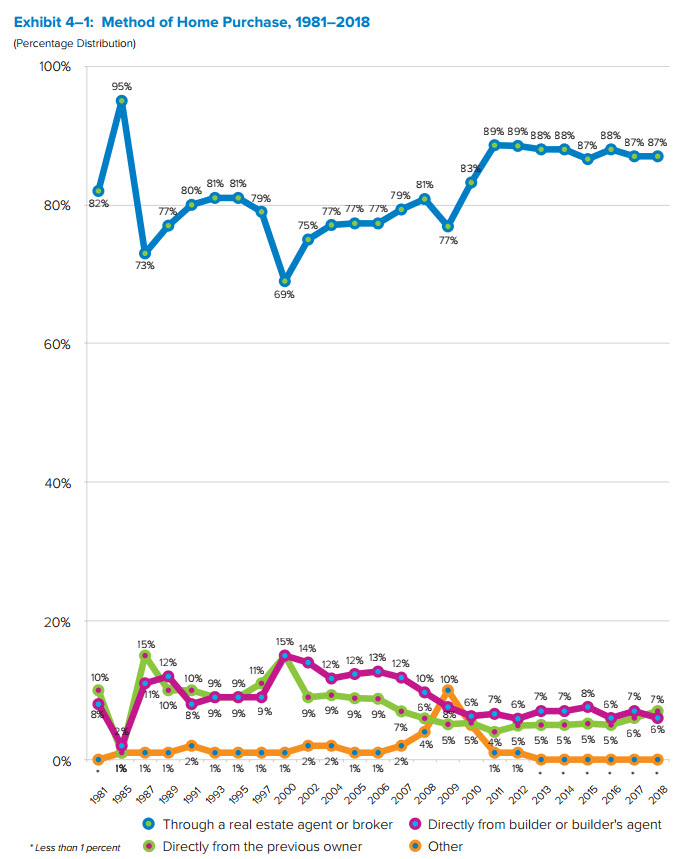 ---
Selling a Home = Appearance + Condition + Price
Here's the hard, cold truth that other agents may be afraid to tell you. Buyers have choices. Your home is not the only home on the market.  If you want to sell your home, then you need to get it looking as good as possible. Your home's appearance doesn't have to be perfect, but it must be better than your competition. So you must clean it up and present it as well as you can, to get offers and sell your home. Sometimes that is as simple as decluttering and staging your home to show itself off. Other times it includes doing updates (painting, new flooring, light fixtures, etc.) if your home is not up-to-date with other homes on the market.
It also means making sure your home is in good condition and will pass a home inspection. If your AC is old and not cooling properly, your electric panel (breaker box) is outdated and dangerous, your foundation appears to have cracks, your roof is 25 years old, and the yard drainage seems to be poor, then a home buyer will pass on your house and buy the one down the street that doesn't have those issues. Buyers don't want to buy problem homes or "money pits," they want to buy homes that are move-in-ready and in good condition.
As a home seller, you are probably a home buyer (looking for a new house) as well. Do you want to buy an old, out-of-date home in poor condition for top-dollar?
So both the appearance of your home and it's condition effect the price. You cannot get top-dollar for a sub-par home. If your home is not as modern and pretty as the other homes on the market, or needs a lot of repairs (especially expensive repairs like old roofs, AC/furnaces, cracked foundations), then home buyers will not buy your home or will expect a much lower price for your home than the other homes on the market. Buyers are looking at all the homes on the market that meet their size, price, and location criteria. That means they are probably more educated than you on what's available and what they can get for their money. (This is why you should get Sheila's Market Watch and closely review your competition.)
Most home buyers want "move-in-ready" homes, especially if the price range is above $200,000. The only buyers willing to buy a "fixer-upper" are buyers who can only afford $190,000 or less for a home and have to buy a fixer upper; or investors and flippers who are going to pay you below-market value in order to have room to do the necessary updates to sell the home for top-dollar.
There's a saying in the real estate industry you may never have heard: "Agents don't sell houses. Houses sell houses." While that isn't exactly true…here's what it means. If a real estate agent does their job by listing a home correctly in all the right places, and presenting it (with photos and video) in the best way possible, and at the right (market-determined) price, then that's all they can do to sell a house. Real estate agents cannot force buyers to buy a home. It doesn't matter how good an agent is at sales, buyers will not buy a home that doesn't look good, is in poor condition, and is priced too high.
The good news is that you, the home seller, are in control of all three of those items!
Please read: SIXTEEN "MUST DO" ITEMS TO PREPARE YOUR HOME FOR INSPECTIONS
---
How to Correctly Price a Home to Sell
Pricing a home is not as easy as you may think. And it is not a matter of what you paid for the home, plus the cost of improvements you have added, plus the amount of profit you want to receive.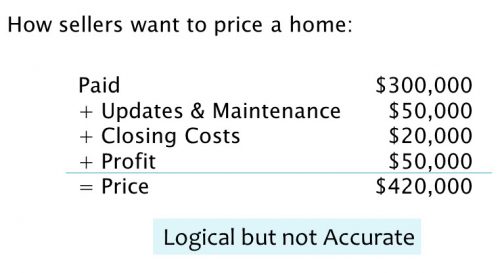 Research shows that 67 to 97 percent of home buyers finance the home they purchase with a home lender.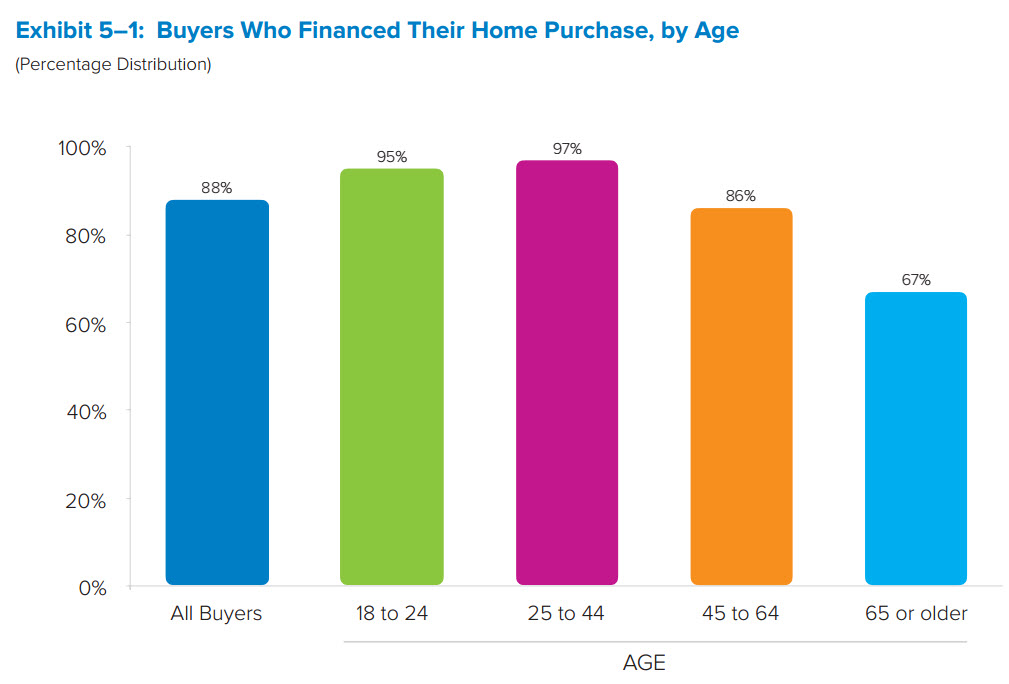 Lenders are in the business to make money, so they are not going to give a buyer a loan on a home for more than it is worth. So, in order to provide a loan, a lender will send an appraiser to your house to determine its market value based on the price that other homes in your area have sold for in the past 6 months or so. In order to sell, the sales price for your home must be the same or lower than the appraised value. So the sales price is not completely up to you, me, the buyer, or the buyer's agent…it's partly up to the lender and their appraiser. This is why it's important to get an accurate Comparative Market Analysis (CMA) on your home early on, to help you decide on your list price.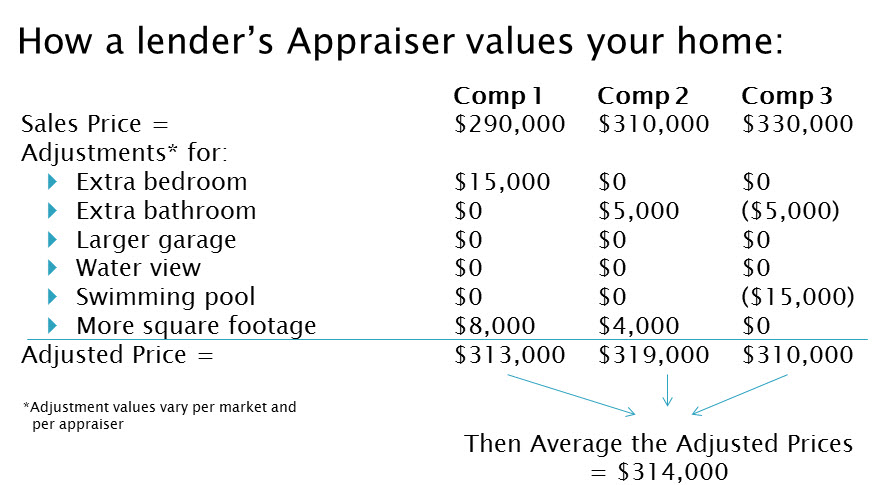 You can also view videos on my YouTube channel
---
The Problem With Some Discount Agents
A lot of discount real estate agents are part-time agents and are not easily available or hard to get in touch with. This may make it difficult for buyer's agents to show your property. Plus, if they are not getting paid a full commission, they are not motivated to pay for all the extra services that a full-service agent offers…those services add to their operating costs. These two things may make it hard to sell your home.
Then, if your house sits on the market too long, the carrying costs (mortgage, insurance, taxes, utilities, lawn service) add up and the final sales price will probably go down. Buyers never say, "This house as been on the market four months? Then let's offer full price!"
All of this effects a final Seller's Net. The following illustration shows what I mean.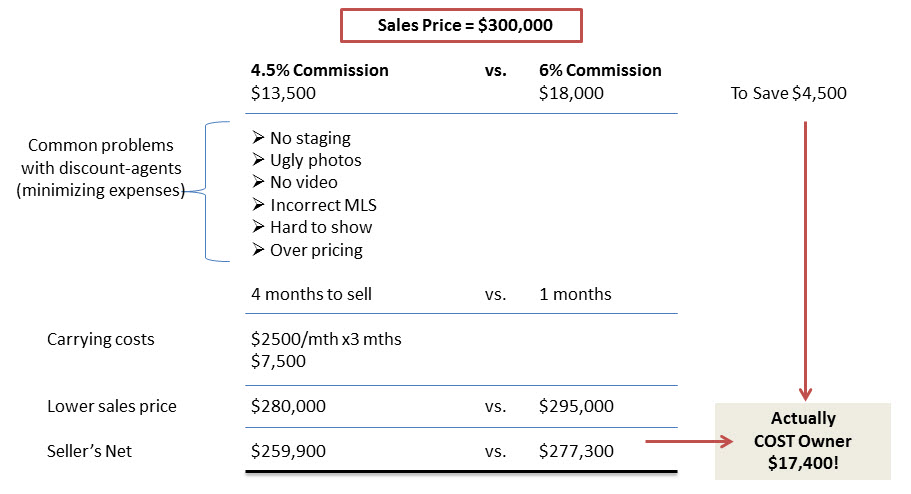 Watch this video for more details on this topic.
You can also view videos on my YouTube channel
---
How Sales Commissions Are Paid
A lot of home owners do not understand how real estate sales commissions are paid. This video explains this topic in detail.
You can also view videos on my YouTube channel
---
What Is the MLS?
Since 95 percent of home buyers are using the Internet to look for homes to buy, it is important to understand where those homes are listed. So please take a few minutes to watch the following video so you understand what the MLS is and why it is important to you, the home seller.
You can also view videos on my YouTube channel
---
The Truth About Open Houses
Less than 7 percent of all homes sold are done so at an open house. It is very rare for buyers to make offers at open houses. The main reason that real estate agents host open houses is so they can meet prospective buyer clients. They figure that the people who attend open houses are potential clients for buying a house. Plus, a lot of people attending open houses are your neighbors, so they may also be potential selling clients.
Open houses do not (typically) sell houses, but they can lead to two problems: theft and insurance liability. A real estate agent can only be in one room at a time. Sometimes, multiple thieves will attend an open house, split up, and head for your bedroom and bathroom to see what they can steal. Also, if someone is trips or falls at your home during a open house, you can be sued. Always weigh the PROs and CONs before allowing an agent to conduct an open house at your home.
---
Do's & Dont's for Home Sellers
Hire a professional real estate agent (Sheila Cox!) who…
| | |
| --- | --- |
| Does this… | Not this… |
| Price your home correctly based on current market conditions and the condition of the home. | Over price the home so that it never sells or under price the home so that you don't get every dollar that you deserve. |
| Help you stage your home so it outshines your competition. | Ignore the basics of real estate and tell you that it's okay to let your house smell like a vet clinic. |
| Take and post as many large, high-quality photos of your beautiful home as possible. | Post only a few low-quality photos of your home that are too small to see. |
| Write descriptions of the rooms presented in each photo pointing out all the special features the home has to offer. | Leave photo descriptions blank…so what if the buyer can't figure out whether a bedroom is upstairs or down or has hardwood floors or carpet. |
| Create a real video tour of the home so that potential buyers can "walk" the home ahead of time and get an idea of the floor plan and layout before setting an appointment. | Skip the videos…who cares if the Seller has to waste time and leave the house for appointments with buyers who will not ever buy the home because the floor plan doesn't work. |
| Enable you to sign contracts and documents for the transaction online and in the privacy of your home–at midnight and in your pajamas if you so choose. | Ask you to sign, scan, and email pages and pages of documents over and over again when your scanner only does one page at a time. |
| Helps you negotiate the inevitable home inspection and repair requests so you don't lose the sale. | Tells you not to worry about obvious repairs and lets your deal fall through due to unreasonable denial of small repair requests. |
| Ensures that you meet all your contractual, legal obligations (survey, disclosures, resale certificate, etc.) in a timely manner. | Expects you to keep up with your own legal obligations and forgets to order things like surveys and resale certificates. |
---
Help Sell My Home
Send me your address and contact info by filling out the form below, and I will contact you within 24 business hours. Let's do this! 😀
---
FREE GUIDES & REPORTS
Click Image to Download a Guide or Report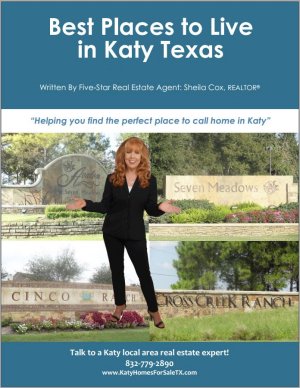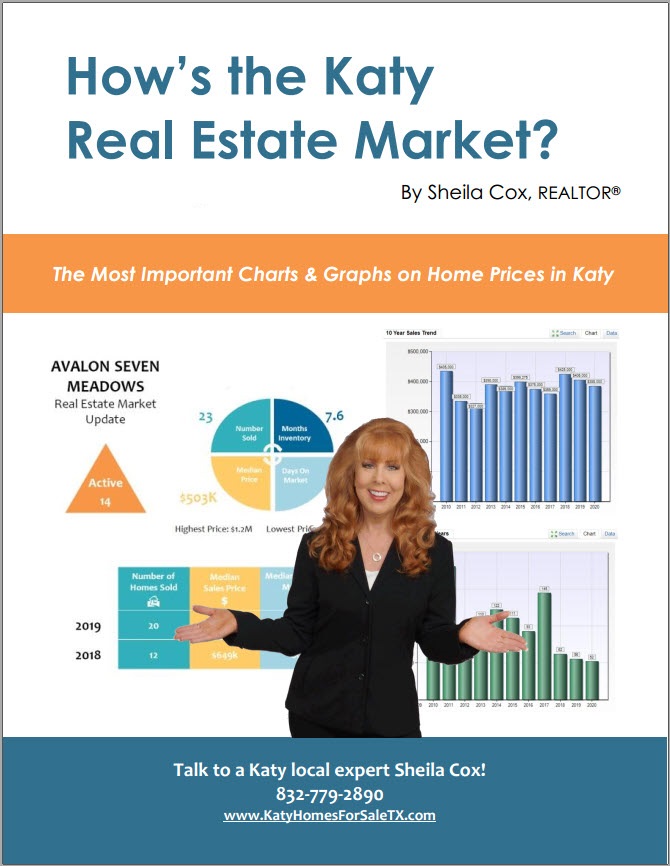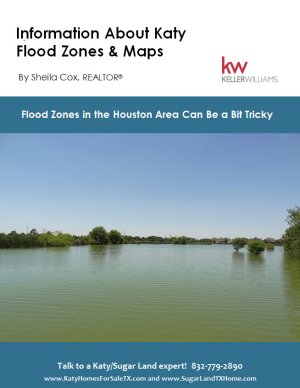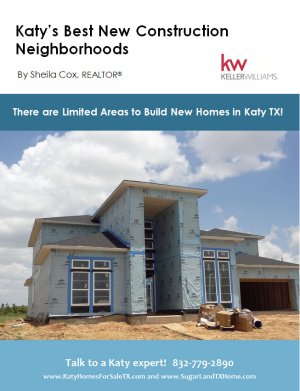 ---
View Helpful Videos on My YouTube Channel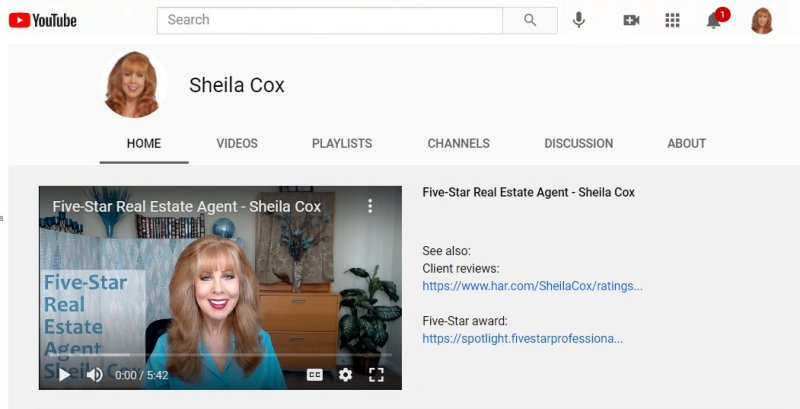 ---
If You Think This Website is Great, Wait 'till You Get Me As Your Agent!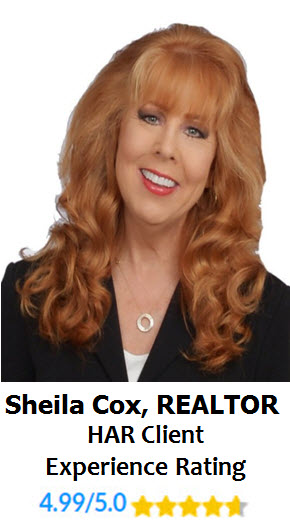 Candid Advice—I promise to give you candid advice on all homes and areas so you can make the best decisions. I won't ignore potential defects that can cost you money, or effect your resale value, in the future. My job is to protect you from defective homes as much as possible while helping you make a sound financial investment. (Read client testimonials)
Local Area Expertise—This isn't just my business…it's where I work and live (for 20 years) so I really know the area. I will help you narrow your options and find the best neighborhood for you based on your specifications. For long-term resale value, the neighborhood you choose is just as important as the home you buy. (Download my Ultimate Katy Guide)
Great Data—I will give you the most in-depth data you have ever seen…to help you make the wisest decisions. This includes a professional CMA when you are ready to purchase a specific home…so you don't pay too much. Plus, my proprietary House Report (see sample) includes the data and information you need to ensure that you are making great home purchase. (Also see Pricing a Home Correctly)
Best Home Searches—Yes, you can search on your own, but no other home search available can filter down to the school level…and filter out the subdivisions that may be known to flood. Tell me exactly what you want, and I can narrow down your options better than any search you have access to. (Request a Custom Search)
Easier Process—Moving your family (and possibly changing jobs) is stressful enough. I'm your transaction manager and will guide you, step-by-step, through the process so you never miss an important deadline. I assist with inspections, repair negotiations, home warranties, HOA compliance inspections, hazard insurance, surveys, appraisals, title commitment, home warranties, title company, and more. (View helpful videos on my YouTube channel)
Video Walkthroughs—If you or your spouse lives out of the state or country, then you will enjoy my detailed video walkthroughs. I have sold multiple homes to out-of-area clients "sight unseen" by providing High Definition video walkthroughs of potential homes. My videos show front and back yards, closets, pantries, laundry rooms, and garage…as well as the entire home. (Sample)
Network of Experts—My network of experts can make your transition to the area as smooth as possible. Need a painter, electrician, mover, insurance company, etc.? I can help! 
Connect With Sheila
---
How I Work to Protect You
My job isn't "just" helping you find a house to buy…I'm helping you buy a home. There are over 100 tasks that I perform for you during the purchasing process. I'm looking out for you every step of the way and keeping my eye on the listing agent, the seller, the builder (if applicable), the lender, the inspector, and the title company. I'm on your side because I'm YOUR agent. I help with price analysis and negotiations, legal paperwork, inspections, repair negotiations, home warranties, HOA compliance inspections, hazard insurance, surveys, appraisals, title commitment, home warranties, and more. I have the expertise to help solve complicated problems that often occur in the process. Real estate is a huge financial and legal commitment. Don't you deserve to have a Five-Star real estate agent on your side? 
Please read:
⇒  Does My Agent Really Represent Me?
⇒  How Real Estate Commissions Are Paid
---
Client Reviews