What Kind of Katy Home Are You Looking For?
Katy real estate is complicated and the perfect Katy home for you depends on your priorities. I have narrowed the search and made it easier to find what you're looking for!
---
Best Katy Neighborhoods to Live In
Find everything you want to know about Katy real estate and the best Katy Neighborhoods, including amenities, taxes, prices, photos, HOA fees, school ratings, and more! I hope this information will help you narrow your search and find the home of your dreams.
>> Go to Katy Neighborhoods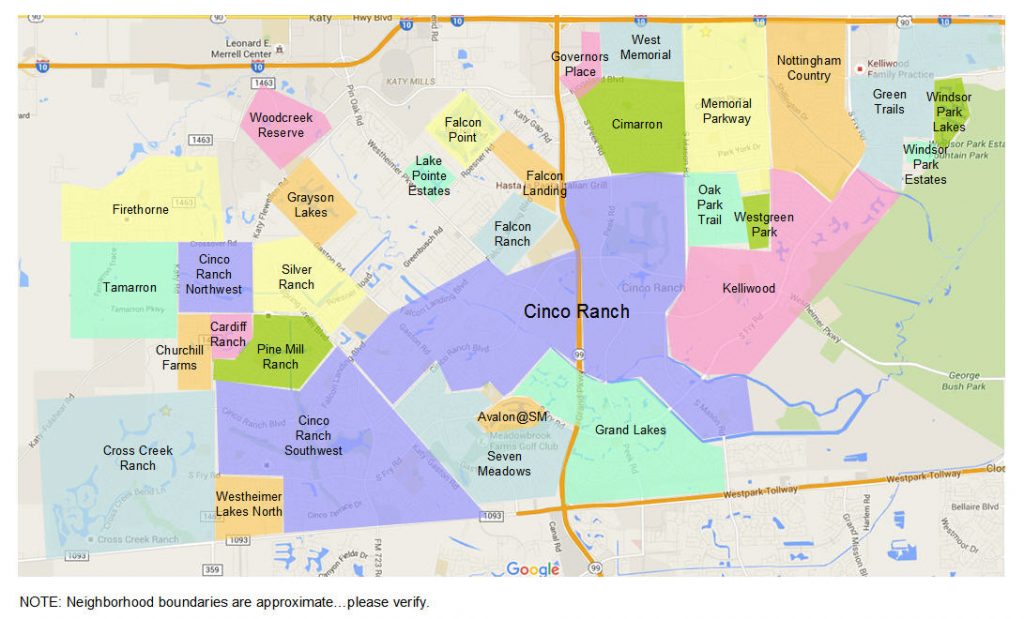 ---
Hot Katy Neighborhoods!
---
Guide to Katy's Best Neighborhoods
  Free 170+ guidebook to find the best Katy neighborhood for you!
---
Tour the Best Katy Neighborhoods! 
Your Tour Guide: Sheila Cox, Realtor
Not only is Katy real estate my business, it's where I live and work. This website (and my helpful guides) are a collection of words, photos, and videos that I personally created. I know the area because I've lived, worked, and explored it for years.
You can drive through the best Katy neighborhoods with my videos…located on my YouTube channel. These are videos of me driving around the neighborhoods…not just a slideshow of photos. You can see the pools, parks, tennis courts, and what the homes look like from the outside.
But the best Katy tour is the one that I will do for you when you hire me as your Realtor! To get started, send me the details of the type of home you are looking for and I will set up the Best Home Search for you. Or better yet…give me a call at 832-779-2890 so we can talk about the best neighborhoods for you.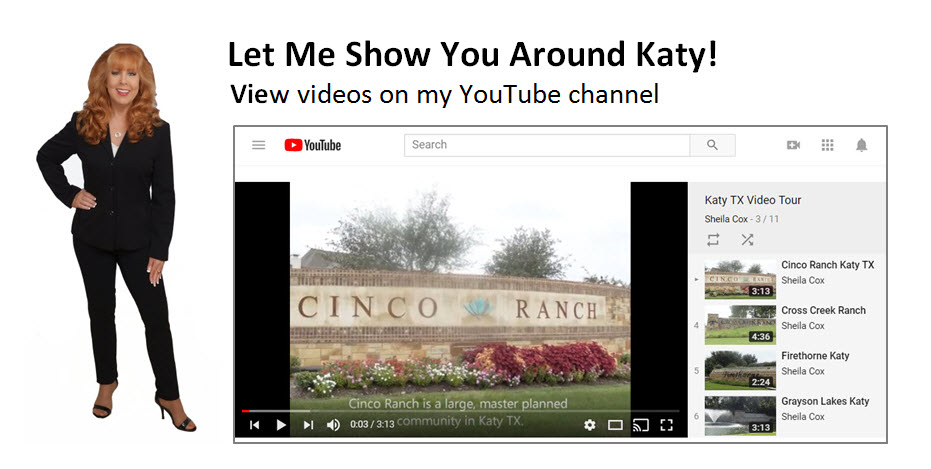 >>
>> Go to Katy TX Video Tour
---
About Katy Schools
Many people move to Katy because of Katy schools and the award-winning and acclaimed school district: Katy ISD (Independent School District). Katy ISD serves over 70,000 students spread over a 180+ square mile area containing 60+ schools. As one of the largest employers in the Katy area, this school district employees over 9,000 people, including 4500+ teachers. The average teacher salary is $55,000/yr and the average student-teacher ratio is…
>> Read More at Katy Schools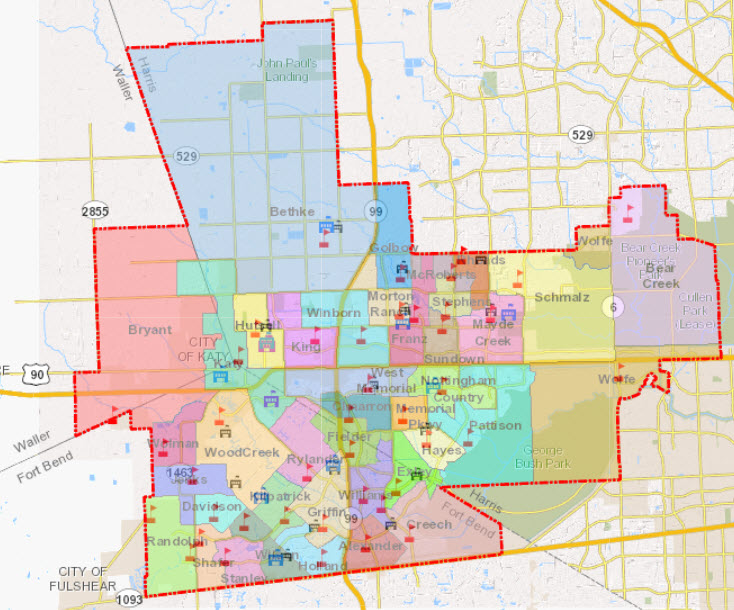 ---
What's So Great About Katy?
Katy TX is a very large area on the west side of Houston TX…where the counties of Fort Bend, Harris, and Waller converge. It is hard to explain to people because, technically, the incorporated "City of Katy" is only a small area of about 15,000 people. However, the "Katy Area" or "Greater Katy Area" usually refers to the entire area covered by the Katy Independent School District and various sources quote the population to be somewhere between 200,000 and…
>> Read More at Katy TX
---
Katy vs Sugar Land
Many people moving to  the Houston area are told that two of the best places to live are Katy and Sugar Land, TX.  They then have a hard time deciding between the two…because they are both great places to live! Plus, they are very similar in types of homes available, good schools, demographics, etc. 
However there are some slight variations that I will try to point out…
Read More at Katy vs. Sugar Land
---
How to Buy a Great Home in Katy TX
First things first. Please read the very important Texas Real Estate Commission's Information About Brokerage Services.
Know What You Are Doing
Get started with top-secret (not really ;-D) information that most home buyers do not know:
Know What You Are Buying
There are two things you are buying when you buy a house:
The Location/neighborhood
The House
Location – Neighborhood
My website is here to help you narrow down your location by giving you the most detailed information available (in one place!) on the best neighborhoods in Katy. However, there are some things that only a really good, boots-on-the-ground, real estate agent knows. Like which sections of which neighborhoods flooded during Harvey. And which areas are known to have potential foundation trouble. And which areas may soon have a major roadway built in their back yard, or where the fault lines are located in the area. (Yes, there are fault lines in our area.)
So you can start off with a general idea of the neighborhoods that you like, but when I take you on tour as your real estate agent, I will explain the PROs and CONs of each area to you. That way you (hopefully) won't find out about detrimental things about the area after it's too late! (I learned this the hard way. Ask me about my experiences with landfills and mushroom farms!)
House
Then, when you find a house that you want to purchase, the first thing I do is a detailed Comparable Price Analysis (CMA) to determine the actual market value for the home. This is to help you get the best price for a home…and not pay too much! The list price on a home may or may not reflect the actual market value of the home…what it will appraise for with your lender.
Then, if we go under contract on the home, I do an in-depth analysis on that specific house to collect all the relevant data on that house and put it into one 18+ page House Report so that you have all the details saved for current and future reference. But more importantly, this is when I double-check for possible hidden defects of a home like:
Sex offenders…is there one living on the same street?
Flood zones…is this house high and dry?
Environmental hazards…is the house close to anything significant?
We've all heard that "two heads are better than one." When you and I work together, we can get you a great home in Katy TX!
Hire a LOcal Area Expert
What I Can Do for You – "Helping you find the perfect home in Katy TX"
Candid Advice—I promise to give you candid advice on all homes and areas so you can make the best decisions. I will point out any potential defects that I notice that may effect your home value or enjoyment. 
Local Area Expertise—This isn't just my business…it's where I work and live. I will help you find the best neighborhood for you based on your criteria.
Great Data—I have a proprietary House Report (see sample) to make sure that you get all the data and information you need to make a great home purchase. 
Best Home Searches—Yes, you can search on your own, but no other home search available can filter down to the school level…and filter out the subdivisions that may be known to flood. I can set up very customized searches so you don't waste time sorting through homes that are not right for you.
Easier Process—Moving your family (and possibly changing jobs) is stressful enough! I'm your real estate project manager and will guide you, step-by-step, through the process so you never miss an important/legal deadline.
Network of Experts—My network of experts can make your transition to the area as smooth as possible. Need a painter, electrician, mover, insurance company, etc.? I can help.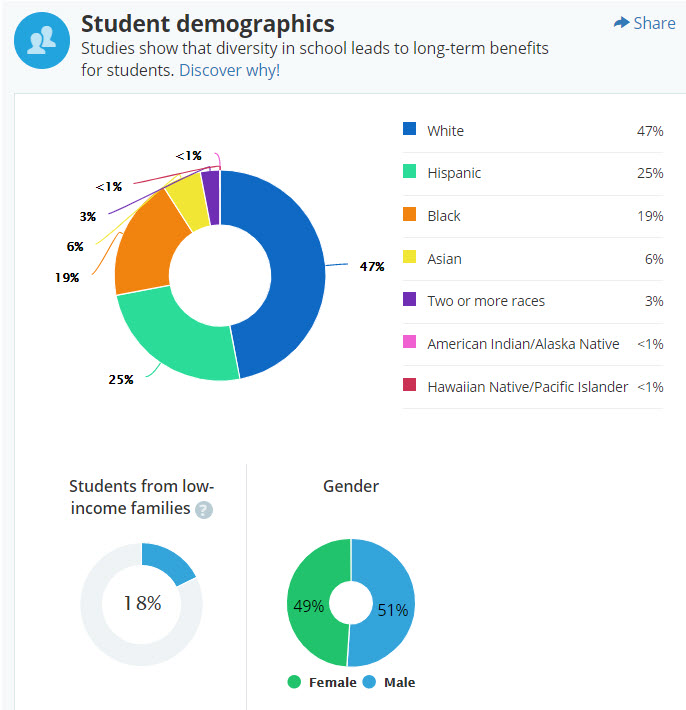 > Read Client Testimonials about Sheila Cox, Realtor
---

How I Work to Protect You
My job is not "just" helping you find a house to buy…I'm helping you buy a house. There are over 100 tasks that I perform for you during the purchasing process! I'm looking out for you every step of the way and keeping my eye on the Listing Agent, the Seller, the builder (if applicable), the lender, the inspector, the title company. I'm on your side because I'm your agent. Not only do I help you find a house, I help with price analysis and negotiation, legal paperwork, inspections, repair negotiations, home warranties,compliance inspections, hazard insurance, surveys, appraisals, title commitment, and so on.            
And take a look at a sample House Report that I do for my clients. No other agent in the world does this! Check out p. 27 regarding the Flood Map info I provide to you.
---
How's the Katy Real Estate Market?
People are always asking me, "How's the market?" My answer? It depends. It depends on your neighborhood, your lot, your square footage, and your price range. Prices are constantly changing and you can't just go off a "price per square foot" number because the price per square foot will vary within the same exact neighborhood…depending on the size, condition, and quality of the specific home.
I have recently put together some detailed market information…
>> Read More at Katy Real Estate Market
---
Need Help With a Home Update or Remodel?
>> Read More at Remodeling & Repairs
---
Best Kept Secrets for Selling Your Katy Home
The best reason to hire me to sell your Katy home is because I know Katy buyers! I know what home buyers want and how much they are willing to pay for it. This is not just my business, Katy is where I live and work. So I know why some homes may be worth a bit more (or less) than others on the market, just because I know the area and what buyers expect.
>> Read More at Katy Real Estate Selling Tips