Description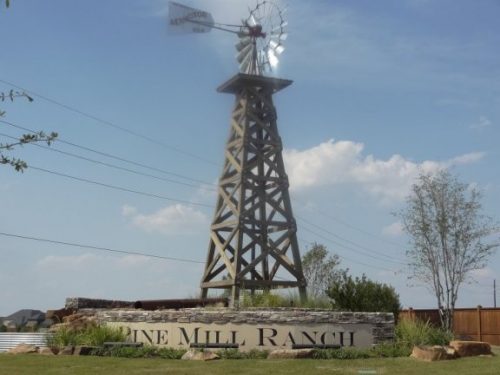 Pine Mill Ranch Katy is located on the far-west side of Katy in Fort Bend County…close to FM1463.
Primarily built since 2008, most of the 1400+ homes (approx.) in this neighborhood are Traditional in style. On average, these homes are two-story homes with 4 bedrooms, 2+ baths, and approximately 3200sf with 2-car garages. This newish neighborhood does not have mature trees but it does have a community clubhouse, two playgrounds, swimming pool, splash pad, and tennis courts.
View Video Tour of Pine Mill Ranch Katy!
What I Like About Pine Mill Ranch…
"Since it's one of Katy's newest neighborhoods, you can buy a very newish home in Pine Mill and it will probably be energy efficient. Plus, the schools are great!"
—Sheila Cox, REALTOR® and the Katy local area expert
Location
Here's a map of Pine Mill Ranch Katy.
Commute Times
The best way to estimate your commute time is to use Google Maps at the time you commute. Simply enter your work address and the address of the house you are interested in, and Google Maps will estimate your commute time. This time is based on the actual time you perform the search, so use it during your expected commute times.
Click here to estimate your commute time
Pros and Cons
Here is a list of the PROs and CONs of Pine Mill Ranch Katy:
| | |
| --- | --- |
| PROs | CONs |
| Good schools | Out-of-the way location |
| Affordable prices | Higher property taxes |
| Neighborhood amenities | No mature trees yet |
| New construction homes available |   |
| Energy-efficient homes available |   |
| Not located in a high-risk flood zone |   |
What's Nearby
Pine Mill Ranch Katy is close to:
Katy Mills Mall
Typhoon Texas waterpark
Soon-to-be-built Katy Boardwalk District
Schools
The following table shows the schools zoned to Pine Mill Ranch Katy. If you want the current ratings for these schools, please download the Katy Neighborhoods Guide.
| School | Type | Area | Address |
| --- | --- | --- | --- |
| Davidson Elementary | Elem | W | 26906 Pine Mill Ranch Drive, Katy |
| Tays Junior High | JH | W | 1801 Woodcreek Bend, Katy |
| Tompkins High | HS | W | 4400 Falcon Landing, Katy |
NOTE:  Schools zones may change, so go to https://gis.katyisd.org/viewer/ to see up-to-date school zones.
Demographics
You can view the demographics of Woodcreek Junior High School, the previous junior high that was zoned to this neighborhood, below. This will give you some idea of the demographics of this neighborhood. There is no demographic information on the new Tays Junior High yet.
Source: Greatschools.org April 2018
Amenities
Pine Mill Ranch Katy has the following amenities:
Club House = 1
Swimming Pools = 1
Waterpark = No
Splash Pads = Yes
Tennis Courts = Yes
Parks/playgrounds = 2
Walking Trails = No
Lakes = No
Golf Course = No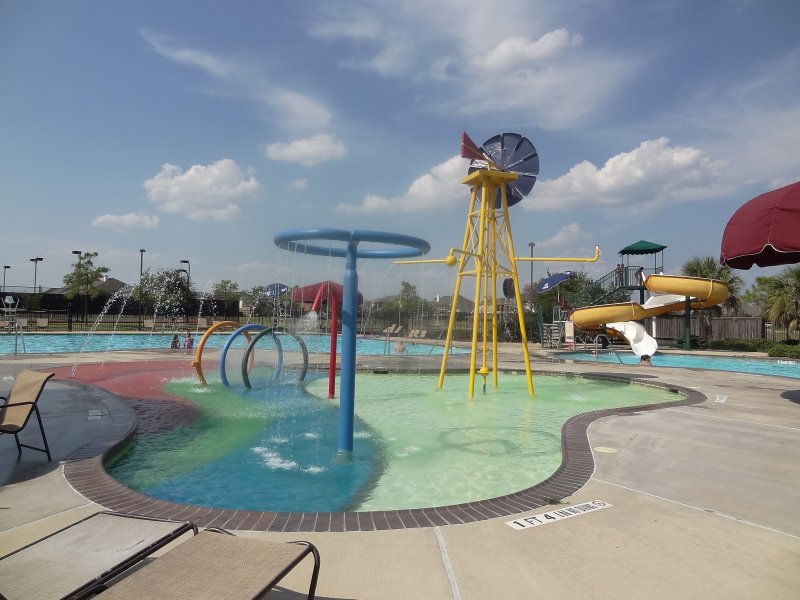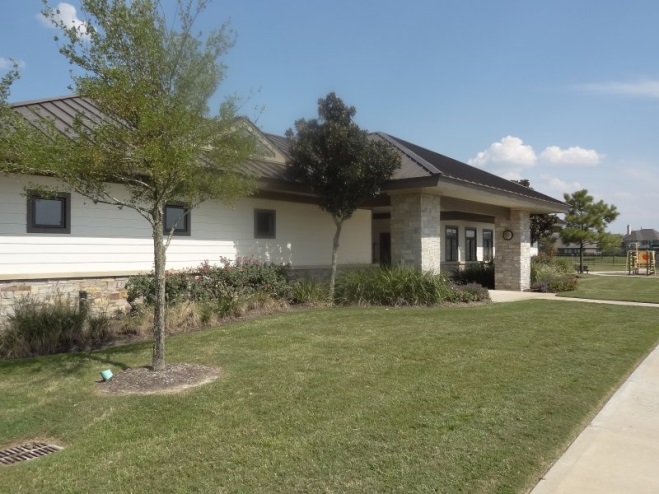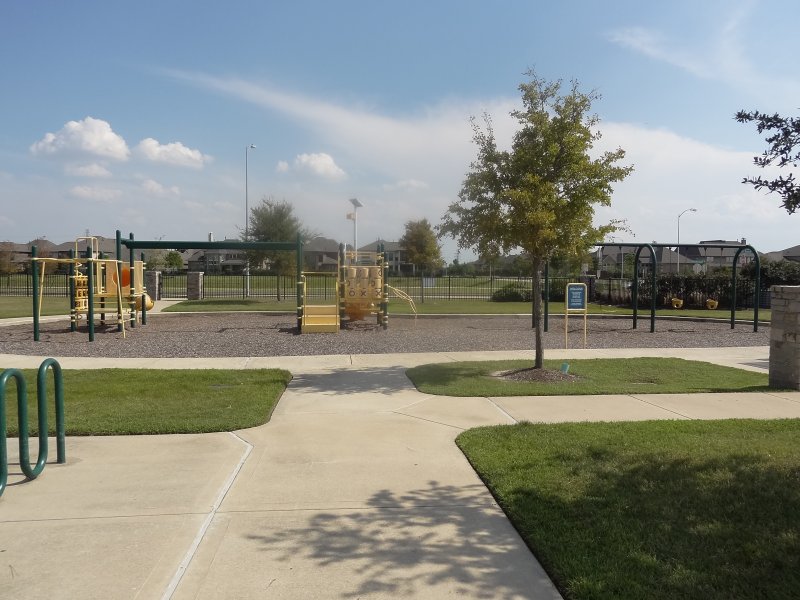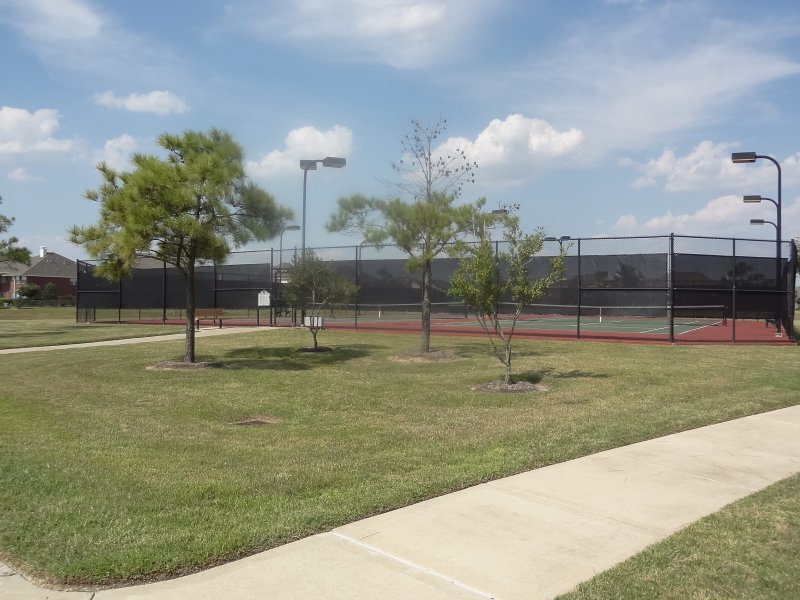 Home Owner's Association
The annual HOA fee, which pays for the amenities, is approximately $655 but may vary depending on the lot. Go to the Pine Mill Ranch Katy HOA or Pine Mill Ranch websites for helpful phone numbers, community documents, and utility information or call 713-329-7100.
Utilities
The utilities for Pine Mill Ranch are shown below:
| | | |
| --- | --- | --- |
| Water, sewer | Fort Bend MUD 57 | 281-579-4500 |
| Trash | Texas Pride Disposal | 281-342-8178 |
| Electric | De-regulated | |
| Gas | Centerpoint | 800-752-8036 |
See more>> Important Phone Numbers
Property Taxes
Property taxes in this neighborhood may vary slightly, but are approximately 3.0 as of April 2018.
Home Values
Home values change every month. To get up-to-date information on the market, Katy FaceBook page and download the Katy Neighborhoods Guide.
---
Homes for Sale in Pine Mill Ranch Showcase
---
---
Didn't Find What You're Looking For?
Get a custom list of the best homes for sale that meet your specific criteria! 
Yes, I know you can search for homes on the Internet on your own, but no online searches available to the general public–including HAR, Trulia, Zillow–none of them will allow you to do the complicated searches that I can perform with my custom home search. I can filter out subdivisions that are prone to flooding, while targeting the exact schools that you prefer. Why waste time looking at homes that you won't buy? I can target the exact areas and homes that may be perfect for you.
"Helping you find the perfect place to call home in Katy TX"