It is extremely challenging to get accurate population statistics and demographics for the Katy Area…since it is not all incorporated. According to the Katy Area Economic Development Council's Website (www.katyedc.org):
"Powered by one of the most acclaimed school districts in the state of Texas, Katy area's growth is fueled by an abundant and talented population, which is growing at of rate of roughly 5% annually.
Approximately 340,000 people reside in the Katy area and are drawn here by the Katy Independent School District (Katy ISD), which now has over 77,000 students. The Katy area is larger in population than the City of Pittsburgh, PA. Katy's past growth between the years 2000 and 2010 increased by 84%. This phenomenal growth is projected to continue, fueled by Katy ISD, energy companies and corporations, businesses and entrepreneurs. By the year 2022, projections show that over 391,000 people will call the area home.
Employment in the Katy area continues to grow at similar pace. The civilian employed population is 180,758 persons with growth projected to 217,652 persons by the year 2022 (20.4% increase). The Katy area has a low unemployment rate at 4.6%.
The demographics of the Katy area are grounded in a strong income base with exceptional educational attainment. The average household income is $127,335 in the Katy area and projected to increase to $147,821 by the year 2022. The strong income base translates to strong educational attainment above the national average, with over 44% of the population having bachelor's or graduate degrees."
Take a look at the demographics of the schools zoned to the area you are looking at if you want a more accurate picture of the area.
---
Cinco Ranch High School (west and east Katy)
Katy High School (north Katy)
Seven Lakes High School (west Katy)

Taylor High School (east Katy)
Tompkins High School (west Katy)
---
---
Please share this info with your Friends!

Amazing Real Estate Tools – To Improve Your Journey
---
What Kind of Home Are You Looking For?
---
If You Think This Website is Great, Wait 'till You Get Me As Your Agent!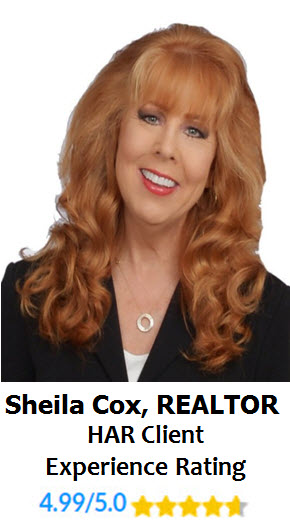 Candid Advice—I promise to give you candid advice on all homes and areas so you can make the best decisions. I won't ignore potential defects that can cost you money, or effect your resale value, in the future. My job is to protect you from defective homes as much as possible while helping you make a sound financial investment. (Read client testimonials)
Local Area Expertise—This isn't just my business…it's where I work and live (for 20 years) so I really know the area. I will help you narrow your options and find the best neighborhood for you based on your specifications. For long-term resale value, the neighborhood you choose is just as important as the home you buy. (Download my Ultimate Katy Guide)
Great Data—I will give you the most in-depth data you have ever seen…to help you make the wisest decisions. This includes a professional CMA when you are ready to purchase a specific home…so you don't pay too much. Plus, my proprietary House Report (see sample) includes the data and information you need to ensure that you are making great home purchase. (Also see Pricing a Home Correctly)
Best Home Searches—Yes, you can search on your own, but no other home search available can filter down to the school level…and filter out the subdivisions that may be known to flood. Tell me exactly what you want, and I can narrow down your options better than any search you have access to. (Request a Custom Search)
Easier Process—Moving your family (and possibly changing jobs) is stressful enough. I'm your transaction manager and will guide you, step-by-step, through the process so you never miss an important deadline. I assist with inspections, repair negotiations, home warranties, HOA compliance inspections, hazard insurance, surveys, appraisals, title commitment, home warranties, title company, and more. (View helpful videos on my YouTube channel)
Network of Experts—My network of experts can make your transition to the area as smooth as possible. Need a painter, electrician, mover, insurance company, etc.? I can help! 
---
How I Work to Protect You
My job isn't "just" helping you find a house to buy…I'm helping you buy a home. There are over 100 tasks that I perform for you during the purchasing process. I'm looking out for you every step of the way and keeping my eye on the listing agent, the seller, the builder (if applicable), the lender, the inspector, and the title company. I'm on your side because I'm YOUR agent. I help with price analysis and negotiations, legal paperwork, inspections, repair negotiations, home warranties, HOA compliance inspections, hazard insurance, surveys, appraisals, title commitment, home warranties, and more. I have the expertise to help solve complicated problems that often occur in the process. Real estate is a huge financial and legal commitment. Don't you deserve to have a Five-Star real estate agent on your side? 
Please read:
⇒  Does My Agent Really Represent Me?
⇒  How Real Estate Commissions Are Paid
Take a look at a sample House Report that I do for my clients. This is the extra "due diligence" I do for you, to make sure that you are getting a great home. This is when I triple check taxes, schools, aerial maps, sex offenders in the area, flood zones, etc. NO other agent in the world does this! Check out p. 27 regarding the sample Flood Map info I provide.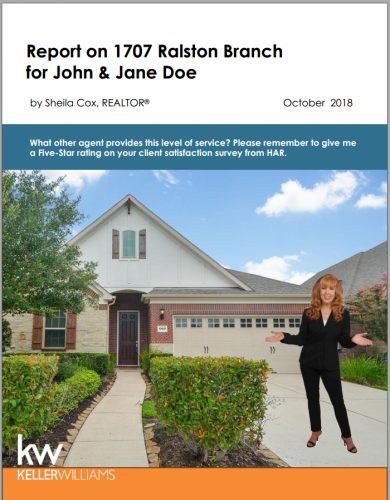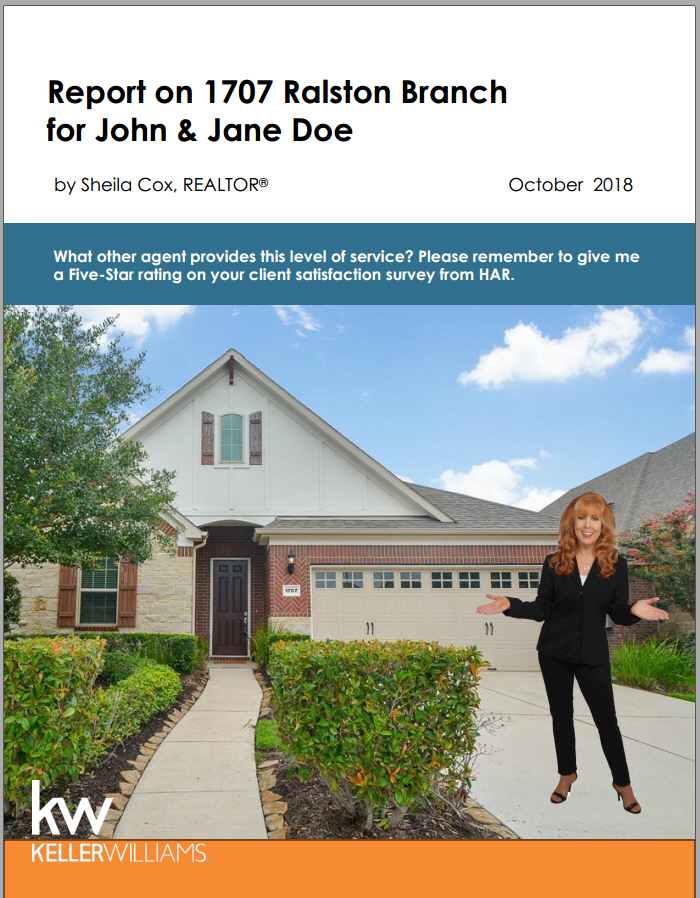 ---
Client Reviews