Are you unsure about becoming a HOMEOWNER?

Thinking that you can't afford to BUY a home?

Are you worried about whether home buying is a good INVESTMENT?
Buying a first home can be an intimidating process. But the first step is making those first decisions: I want to own my own home; I can afford to own my own home; owning my own home makes sense for me financially and emotionally. If you are still struggling with those first decisions, here are some facts that might help you make that first step towards becoming a homeowner.
You Can't Afford NOT to Buy a Home!
Over the last ten years, the cost of rental housing in the U.S. has increased an average of 3 percent per year. That means that an apartment or home renting for $750 per month will cost more than $978 a month in ten years. If you rent the same home for ten years, the total amount you would pay for rent will equal $103,000! 

Tax Advantages of Owning a Home Result in Savings
None of that $103,175 is returned to you, either through savings or as an investment. Homeownership, on the other hand, has tax advantages over renting a home, and those advantages can help you save money. Unlike your monthly rent, part of your monthly mortgage payment "comes back to you" in tax savings. Here's an example:
You purchase a home that costs $110,000 (plus closing costs – expenses incurred to actually process the transaction). You finance the balance with a 30-year fixed rate mortgage at 6.5 percent interest. Your monthly payments (not including utilities, maintenance, insurance, etc.) are:


You actually save $195 a month by owning your own home. On a yearly basis, the savings is even more dramatic: 
Homeownership is a Good Investment
For the majority of Americans, their home is their largest financial asset and a major player in their investment portfolio. It's a good thing, too, since stock market value has declined since 1998, while home price appreciation has increased. The NATIONAL ASSOCIATION OF REALTORS® estimates that home value rises, on average, by 4.5 percent a year. That's a steady return on investment; one's own home is a much less volatile asset than stocks, bonds or mutual funds.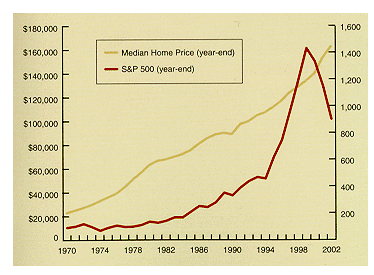 As an example, let's look again at that $110,000 home. Unlike your rental unit, your home should appreciate over time. Assuming a 4.5 percent appreciation rate, your home will be worth $114,950 in the second year of ownership, $120,123 in the third year of your owning it, etc. After ten years, your $110,000 home will be worth $163,470. Not only do you earn a rate of return on your original purchase price, but you also get a return on any subsequent appreciation.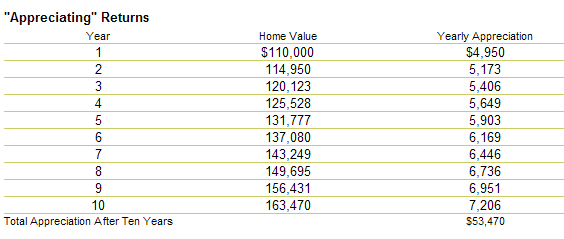 Homeownership Builds Wealth for Households
The Federal Tax Reserve Board estimates that homeowners have a net worth almost 36 times more than that of renters. In 2001, the median net worth for homeowners was $171,700 compared to $4,800 for renters. How do you build up your net worth? Through those "appreciating returns" on your home.
We've already seen how your $110,000 home is worth $163,470 in ten years. In addition, you are paying down the principal on your mortgage. Remember that $100,000 you borrowed at 6.5 percent over 30 years – that debt amount is decreasing every month and every year.

After the first year, you now only owe $98,786 on a home that is worth $114,950. You have "netted" a $4,950 increase in the value of your home, plus $1,116 a year that previously you owed as part of your mortgage debt. As your debt decreases and the home value increases, you accumulate wealth from the value of your home. In addition, over this ten-year period, you will have a significantly lower after-tax payment for housing. Each year as your home appreciates and you continue to pay down your mortgage debt, you increase your own net worth.
Homeownership – It's NOT Just About Money
The "numbers tell the story" should ease your mind about the financial aspects of becoming a homeowner. But there are other, less monetary, benefits to homeownership. Several research studies indicate homeownership adds to the value of communities, has positive effects on children, and even contributes to increased voter participation rates.
---
Courtesy of: NATIONAL ASSOCIATION OF REALTORS®
---
FREE GUIDES & REPORTS
Click Image to Download a Guide or Report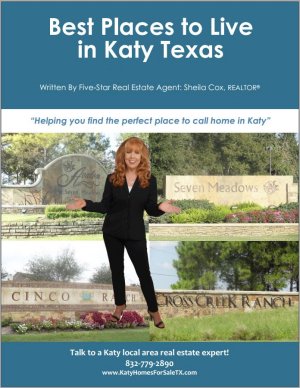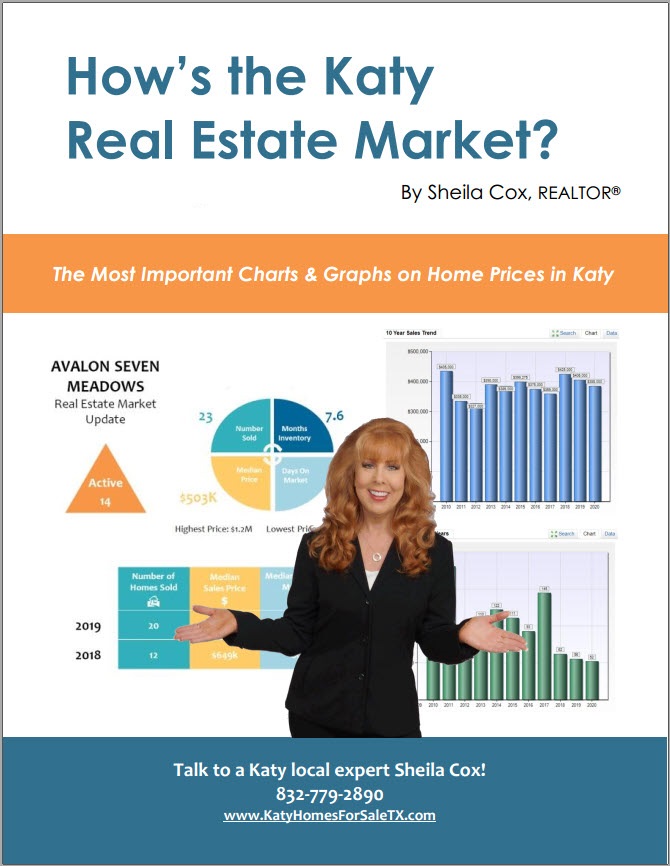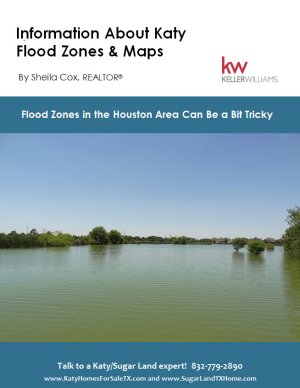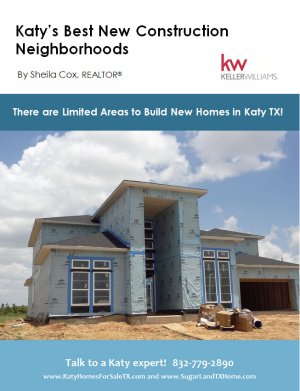 ---
View Helpful Videos on My YouTube Channel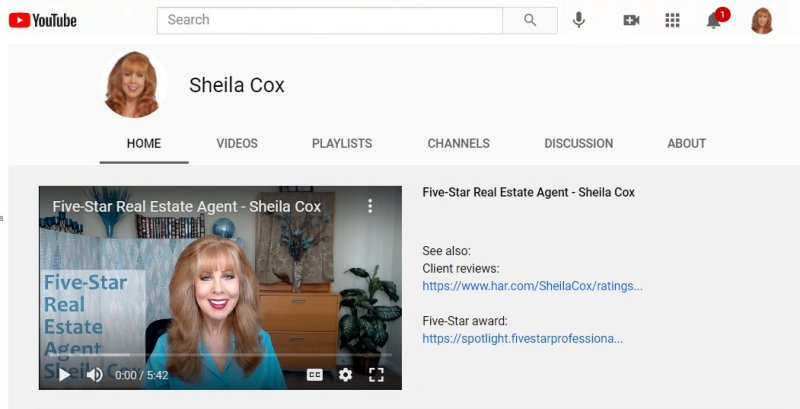 ---
If You Think This Website is Great, Wait 'till You Get Me As Your Agent!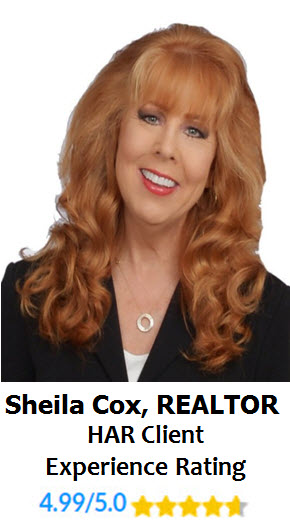 Candid Advice—I promise to give you candid advice on all homes and areas so you can make the best decisions. I won't ignore potential defects that can cost you money, or effect your resale value, in the future. My job is to protect you from defective homes as much as possible while helping you make a sound financial investment. (Read client testimonials)
Local Area Expertise—This isn't just my business…it's where I work and live (for 20 years) so I really know the area. I will help you narrow your options and find the best neighborhood for you based on your specifications. For long-term resale value, the neighborhood you choose is just as important as the home you buy. (Download my Ultimate Katy Guide)
Great Data—I will give you the most in-depth data you have ever seen…to help you make the wisest decisions. This includes a professional CMA when you are ready to purchase a specific home…so you don't pay too much. Plus, my proprietary House Report (see sample) includes the data and information you need to ensure that you are making great home purchase. (Also see Pricing a Home Correctly)
Best Home Searches—Yes, you can search on your own, but no other home search available can filter down to the school level…and filter out the subdivisions that may be known to flood. Tell me exactly what you want, and I can narrow down your options better than any search you have access to. (Request a Custom Search)
Easier Process—Moving your family (and possibly changing jobs) is stressful enough. I'm your transaction manager and will guide you, step-by-step, through the process so you never miss an important deadline. I assist with inspections, repair negotiations, home warranties, HOA compliance inspections, hazard insurance, surveys, appraisals, title commitment, home warranties, title company, and more. (View helpful videos on my YouTube channel)
Video Walkthroughs—If you or your spouse lives out of the state or country, then you will enjoy my detailed video walkthroughs. I have sold multiple homes to out-of-area clients "sight unseen" by providing High Definition video walkthroughs of potential homes. My videos show front and back yards, closets, pantries, laundry rooms, and garage…as well as the entire home. (Sample)
Network of Experts—My network of experts can make your transition to the area as smooth as possible. Need a painter, electrician, mover, insurance company, etc.? I can help! 
Connect With Sheila
---
How I Work to Protect You
My job isn't "just" helping you find a house to buy…I'm helping you buy a home. There are over 100 tasks that I perform for you during the purchasing process. I'm looking out for you every step of the way and keeping my eye on the listing agent, the seller, the builder (if applicable), the lender, the inspector, and the title company. I'm on your side because I'm YOUR agent. I help with price analysis and negotiations, legal paperwork, inspections, repair negotiations, home warranties, HOA compliance inspections, hazard insurance, surveys, appraisals, title commitment, home warranties, and more. I have the expertise to help solve complicated problems that often occur in the process. Real estate is a huge financial and legal commitment. Don't you deserve to have a Five-Star real estate agent on your side? 
Please read:
⇒  Does My Agent Really Represent Me?
⇒  How Real Estate Commissions Are Paid
---
Client Reviews