Many people moving to the Houston area decide they want to live in Katy or Sugar Land because of the great schools. However, they are often surprised to find out that there is very limited new construction in these areas, especially Sugar Land. Sugar Land is completely land-locked by Houston, Stafford, Missouri City, and Richmond Texas. If you want a new construction home in that area you will probably have to live in Missouri City, in either the Riverstone or Sienna Plantation neighborhoods. There is new construction in Imperial Sugar Land, but that neighborhood is not zoned to highly-rated schools, is next to a chemical plant, municipal airport, and baseball stadium, and train track. There is some new construction in Riverpark, which is zoned to poorly-rated schools.
NOTE Richmond Texas is adjacent to Sugar Land and there are new construction homes available in Aliana and a few other neighborhoods that I do not recommend. Aliana is adjacent to a large county dump and the other new construction neighborhoods are not zoned to highly rated schools.
Katy New Construction Neighborhoods
If you want Katy new construction homes for sale, especially a new construction home from a builder, then you will have to look northwest or southwest (and have a longer commute to downtown). Katy is "built out" on the northeast and southeast sides, closest to downtown Houston. The largest area of new construction homes will be on the northwest side of Katy (77493) where the schools are only Average (usually rated 5-7). If you want highly-rated schools, then look on the southwest side, including Fulshear TX (77441) because most of 77494 is built out.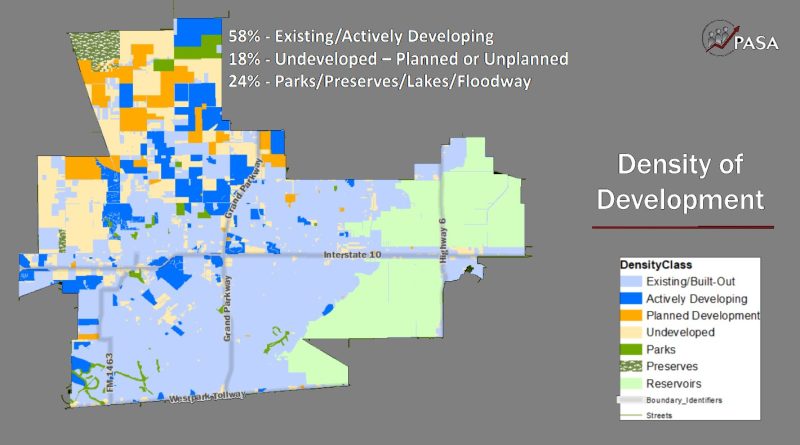 Source: https://www.katyisd.org/
One thing to watch out for with Katy new construction homes for sale: High-risk flood zones. Some of the new construction neighborhoods are in 100-year and 500-year flood plains! Check out my Katy Flood Zone Report for more details and flood maps.
NOTE: There is also a major new development in Cypress (north of Katy) called Bridgeland.
---
Do Your Research!
>> Read Buying New Vs. Resale Home
>> Read What To Expect When You Buy A New Construction Home
>> Read How to Choose the Best Neighborhood
---
Katy New Construction Homes for Sale
Updated Daily – Sorted by Newest Listings